Interview: JOHNNY KELLY, SEPTEMBER 29TH, 2007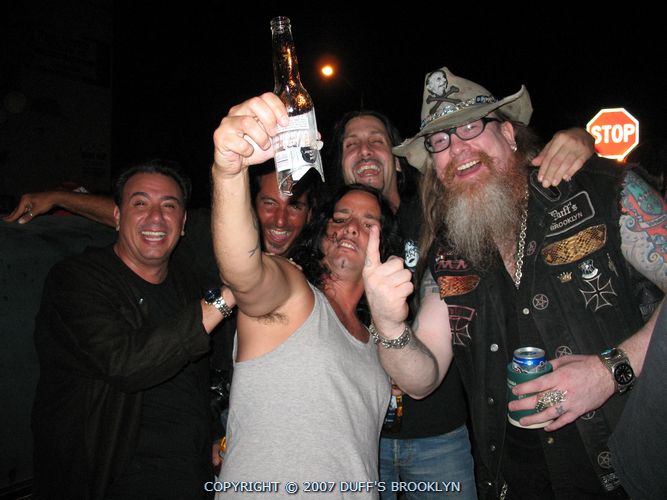 Our friend Johnny Kelly stopped by the bar, and in the casual manner that we do these interviews, we hung out and discussed over drinks a number of topics:
Jimmy Duff: It's quarter to four on a Saturday night, hangin' out with Johnny Kelly here. We finally got around to doing our interview here. We're gonna talk some shit, we're gonna talk with the guy that's in 27 bands here. Lemme ask you a question Johnny, are you Jamaican, or what?
Johnny Kelly: I'm looking for number 28.
(Both laugh)
JD: So, first off, let's talk about what's on the front burner now, Seventh Void. You guys are playing Club Europa on Sunday.
JK: Yeah, we're doing that - We finally got some time between Type O Negative's schedule to, you know, we started getting Seventh Void back together, and we did a bunch of recording on the break, and now we have the show coming up. Hopefully this is the start now of a little momentum.
JD: Get the ball rolling.
JK: It's time. It's becoming Chinese Democracy.
(Both laugh)
JD: Now this is your first Brooklyn show coming up (Seventh Void at Club Europa, Greenpoint, Brooklyn). Are you psyched?
JK: Yeah, actually I'm really looking forward to it. I think it's gonna be a good time.
JD: Killer. You've been practicing hard, and there's a real good feel about this band ...
JK: It's a neighborhood thing.
(Both laugh)
JD: Speaking of which, you've got old school roots in this particular side of Brooklyn yourself.
JK: Yeah, my parents grew up like the next neighborhood over, in Greenpoint, and then next it's Bed Stuy, the older Bed Stuy area. My mother grew up on Skillman Street over by Flushing Ave. My father was on Spencer Court.
JD: So where were they from originally?
JK: They were born and raised in Brooklyn, just a couple neighborhoods over.
JD: Now Kelly, that's obviously Irish.
JK: Yeah (laughs)
JD: Can you trace your roots back to Ireland?
JK: No, actually, the name is an adopted name.
JD: Yeah?
JK: Yeah. I wasn't adopted. My grandmother passed away when my father was very young, and my great grandmother adopted him and she was married to John Kelly. And that's where we got the name from.
JD: The name John Kelly is pretty Irish.
JK: Yeah, it's pretty common. When we went to Dublin 10 years ago, with Type O, and I went to the phone book and I pulled out all the John Kellys in the phone book. There were six pages of John Kellys. If I have to go on the lam, that's where I'm going, they'll never find me.
JD: Brooklyn was the place for the Irish to come to. My great grandparents immigrated to Bay Ridge from Ireland in 1856.
JK: My family isn't here that long. My great grandmother came from Ireland I don't know the exact date and name of the boat, but it was right after the Titanic sunk (1912) . She came over a couple months later.
JD: My grandmother on my fathers side came over around the same time, they might have been on the same boat, who knows?
JK: There were a lot of boats though (laughs)
JD: Yeah, fuckin' donkeys ... I'll leave that out
(Both laugh)
JD: So you've got a big Type O swing coming through, a lot of tour dates coming up... The last leg was very successful, the band did a lot of European dates, ah, the NYC dates I attended both of them and they were fuckin' great.
JK: You're too kind Jim.
JD: Well, I was drinking heavily too, but I'm not gonna throw ya under the bus.
(Both laugh)
JD: What can we look forward to in terms this next leg? Are you going to change up the set list at all?
JK: The intention is to change up the set list a little bit, but we'll have to see how rehearsals go (laughs). And if rehearsals go well, then yeah, the set list will be changed up a little bit
JD: Appropriately enough, the tour is ending on Halloween at Starland (Starland Ballroom, Sayerville, New Jersey), and that's cool. Type O Negative and Halloween ...
JK: Pretty much goes hand in hand
JD: Exactly
JK: It's just been a bummer that we haven't been able to go out on Halloween to do any kind of Halloween run. I mean, we did them for years, and then the last couple of years we haven't been able to do them, for a number of reasons.
JD: So, since now Danzig is actually out gigging the same time as Type O, who is going to be playing drums for Danzig now? For anyone who doesn't know, Johnny is the skins basher for Danzig, Type O takes priority, but... So who's playing drums for Danzig now?
JK: Honestly, I have no idea.
JD: You don't?
JK: I can't get a straight answer from anybody (laughs)
JK: I talked to Glen, and I talked to his manager, and I'm very good friends with Steve Zing...and anytime I talk to anybody, I'm like, who's playing drums for the run? And nobody really has a straight answer. So I wish I had one for ya. I know that it just got announced that Todd Youth is gonna be doing it. And I think that the drummer that Todd plays with is gonna be playing drums for that run. I think, I'm not really certain, but ... I suspect.
JD: What's it like playing with Danzig?
JK: First off, it's a fuckin' honor to do it. I mean, that's rock n' roll royalty right there. That's it. You look at his catalog, and what he's accomplished over the years, from starting out in Jersey, to now. It's really impressive. So to be a part of that family tree now, to me, that's huge. Playing with him, it's a very a stress free environment. And that's mission accomplished (laughs) .
I mean, one aspect is that I earn a living doing it, but at the same time, it's really a lot of fun!
JD: Having Kenny along for the tour must have been a trip as well (Type O's Kenny Hickey played on the last Danzig tour along with Johnny). What was that like?
JK: With all the different people that I've had an opportunity to play with, playing in Danzig, that one felt right. It seemed like the band that was behind Glen, with Steve Zing, Kenny and myself, we were really trying to bring it ... it's was respectful, and it really felt right. It seemed like it was part old, part new. Kenny was doing his thing, adding his own style, he was putting his impression on it, but at the same time, he was staying true to the originals, so people weren't like, "What's this guy doing ?" In that aspect too, it didn't feel like we were playing in a cover band.
JD: OK. Now, you also have the Earl's Court project (A Led Zep tribute band) out playing ...
JK: When are we gonna play here ? (laughs)
JD: Sure, we'll put a PA in the Porta John.
JK: We'll bring a PA. We'll just move the benches, we'll play right here in the corner.
JD: When the lease is about to expire, believe me ... it's gonna be fuckin' fireworks and live music, and human sacrifice, trust me, it's gonna be a fuckin' free for all ...
JK: I was gonna say human sacrifice
(Both laugh)
JK: With Earls Court, it started out ... I can't believe that we've been playing together, you look at a calendar and we've been playing together for over 8 years. It's really one of those things where, all the guys in the band, except for the singer, I've known them all for a lot of years. The guitarist I've known since the seventies, I went to high school with the bass player ... So it's it just like something where we would get together and have some fun with it, and then it became really good excuse to get out of the house (laughs). And when we play, our friends come out and it just becomes a thing where we're just hangin' out, like when we were younger. You know, as you get older and your responsibilities increase you don't get to get out like you used to. And this is a good vehicle for all of us to say "I have a gig tonight", and I'm gonna go see Johnny play and I'll see ya later. And everybody becomes a drunken mess.
(Both laugh)
JD: So the Type O tour is wrapping up on Halloween, the band is likely going to take a year, a year and a half off, hopefully not too much longer...
JK: God, I hope not (laughs)
JD: So what's next for you, after Halloween?
JK: Honestly, I really have no idea. Glen's out on the road at the same time as we are, so I'm not going to be part of that. Playing in Danzig is what has been keeping me going between the Life is Killing Me and the Dead Again records that Type O did. It kept me busy for a lot of that. And, so now, I don't have any definitive plans, everything is pretty much up in the air right now. My goal, right now, is to make sure it doesn't take four years for Type O Negative to put out another record. Cause we're all gonna get our AARP cards pretty soon!
(Both laugh)
JK: For now, now that this trip is going to wind down, I'm hoping that we don't take as long as a break before we start working on the next Type O record. I really don't see a reason why we should take that long of a break.
JD: Are you going to focus now more on Seventh Void?
JK: Well, yeah, now that Type O is winding down, Vinnie Paul has been playing a big part in what we've been doing, and Vinnie Paul is very busy at the moment, you know, with Hellyeah, so ...now we have to see, now that we have a lot of free time, we have to see how much free time he has, and hopefully, for us, Seventh Void, Vinnie isn't gonna be THAT busy (laughs). Yeah, so that's the next thing. Really, the way Seventh Void started was something of a vehicle for us to keep playing, to keep doing something in between what Type O was doing, because it seems the track record for Type O now is three years, you know, with Halloweens in between.
JD: OK, let's stop this for two seconds and go get some drinks ...
END
---