THE 2005 NEWS ARCHIVES
December 10, 2005
The Dimebag Memorial Fund Benefit - Coda
The DUFF"S DBMF benefit was a great success for the fund, and one hell of a party. Congratulations to Sam Awry of Williamsburg Brooklyn, guitarist for the band Sun Descends, the winner of the Dean Dimebag tribute guitar . A fitting ending to a great night. We raised $ 3,922 for the memorial fund - I'll be kickin' in an additional $88 to make it an even $4,000. The funds will be sent out registered mail this week to Texas, and all the paperwork regarding the transaction will be made available to anyone who wishes to view it.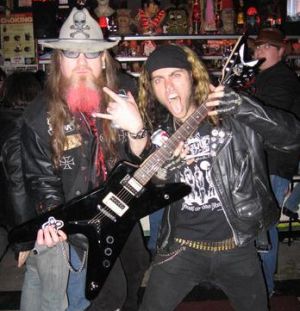 Those who would like to contribute directly may do so sending contributions to:
Dimebag Darrell Memorial Fund
110 SW Thomas
Burleson, TX 76028
My thanks to everyone who came out Friday, John C., J.P. from Dean Guitars, E. Bonesmith, and of course, the killer staff at DUFF'S for keeping everything running smooth . We'll do it again next year - JD
November 23, 2005
DIMEBAG MEMORIAL FUND BENEFIT FRIDAY 12/09/2005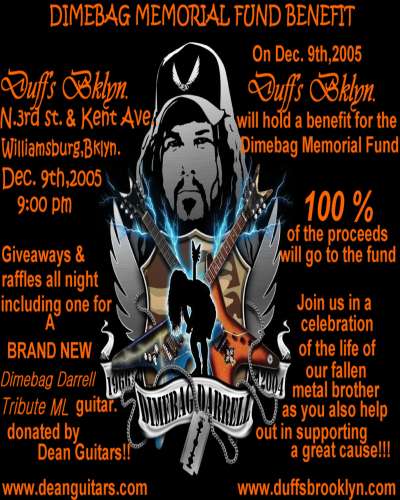 "Pay attention you fucks !!!" - Dimebag
December 8th 2004 is a day that we remember all too clearly - The day Dimebag was senselessly murdered onstage in Ohio. Personally , for me, I'll be observing that date in my own way this year, gettin' loaded & crankin' Dime tunes, hopefully keeping it low key.
The following day, Friday, December 9th, 9 PM, I will be hosting a benefit at DUFF'S , for the Dimebag memorial fund , for all the super -humans who lost their lives or were hurt that night trying to save/help Dimebag . None of us will ever forget Dime, and fortunately we still have the music that will outlive you and I, and will be enjoyed as long as this world spins. What's important now is to celebrate the life and music of Dime, in the fashion he would approve - Gettin' ripped & havin' the best fuckin' time we can , and , also - remembering the others who lost their lives that night, and helping provide for their survivors.
This will be a TRUE benefit, not "we'll donate a dollar for every beer" , or " a portion of the proceeds" kind of fucking nonsense. Fuck all to that exploitation horseshit - 100% of the proceeds of the evening , as well as 100% of the bartenders tips will go to the Dimebag memorial fund . As if that wasn't enough , we will also be raffling off a brand new Dean Dimebag Darrell ML guitar ( pictured below), generously donated by our friends at Dean Guitars, along with other lots of other cool stuff. And we will party, in the spirit of Dime - Mark your calendars for a great time , and an even better cause - Jimmy Duff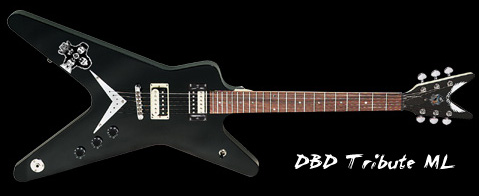 A Tribute to Dimebag Darrell from Dean Guitars
October 12, 2005
Gutterpunk-friendly Sweet Water became a salmon-serving café, but the devil-locked and Jesus-haired needn't grieve. Off Bedford's beaten path, a block from the East River, DUFF'S is a Hessian haven run by Jimmy Duff, former co-owner of the Hell's Kitchen oasis Bellevue. The interior includes Wendy O. Williams (with rifle), a guerrilla suit, and an array of Rob Zombie­style baubles. Dig also the spacious porch complete with coffin: What's more romantic than the Manhattan skyline accompanied by Rob Halford's falsetto? -Brandon Stosuy
October 11, 2005
DUFF'S - Best of Citysearch New York 2005
My thanks to everyone who voted for DUFF'S in the 2005 Citysearch.com New York City "best of " polls . DUFF'S finished first in both BEST DIVE BAR and BEST JUKEBOX . The Dive bar award is my 2nd time winning , this time with a different bar, in a different borough, very fuckin' cool .
More importantly - We won for best jukebox , the most screamin' metal jukebox in the Tri - state area( at the very least), cause it's all about the music. They are wins for all of us. Thanks again, You / We ROCK - J.D.
Best of Citysearch New York - Best New York Dive Bar 2005
September 28, 2005
Best Bar to Drink a Dollar PBR and Head-Bang With the Ghosts of Alcoholics
At the millennium's dawn, any headbanger worth his spiked collar headed to the Port Authority's urine-soaked shadow. There, near Sterno-sipping lifers, sat Hell's Kitchen's Bellevue, a be-careful-where-you-sit dive with horror-movie décor (including a coffin) and copious amounts of pre-irony Pabst. Metal veterans like Pantera and Rob Zombie often snagged stools and watched tooth-deficient septuagenarian Dancin' Dominick hoofing it to Danzig like "your grandfather on crack," says Jimmy Duff, Bellevue's former co-owner.
Six years later, Bellevue and Dancin' Dominick are both dead. (Well, Bellevue chugs along with less horror and more yuppies, which means it's kaput in our book.) Blessedly, Duff has resuscitated both Bellevue and Dominick at Williamsburg's heavy-metal outpost named, naturally, Duff's.
Until 9 pm, cram inside the former check-cashing shop, sit on a cow-print stool and down a dollar Pabst. Ogle the Jesus memorabilia and concert posters and, perhaps, spin some Sepultura. If you visit on weekends, grab a free wiener grilled on the outdoor deck. Then bow your head: Dancin' Dominick's satin jacket is encased in glass on the wall and, on the TV, there's grainy footage of the infamous postal worker, boogying eternally to his own peculiar beat.
August 19, 2005
Who the fuck ever said it was dead?? (Besides Halford in 1998 - Many good metal releases later, all is forgiven). Here's a cool recent article talking of Heavy Metals new resurgence in "hip" circles, with a shout out to DUFF'S as well. Not a big surprise here, with all the dogshit music that's been popular of late, that people would come back to Metal. No matter. When the "tastemakers" again decide Metal isn't fashionable any longer, we'll still be here. JD