THE 2009 NEWS ARCHIVES
December 27, 2009
Dimebag Guitar/Tattoo raffle '09 wrap up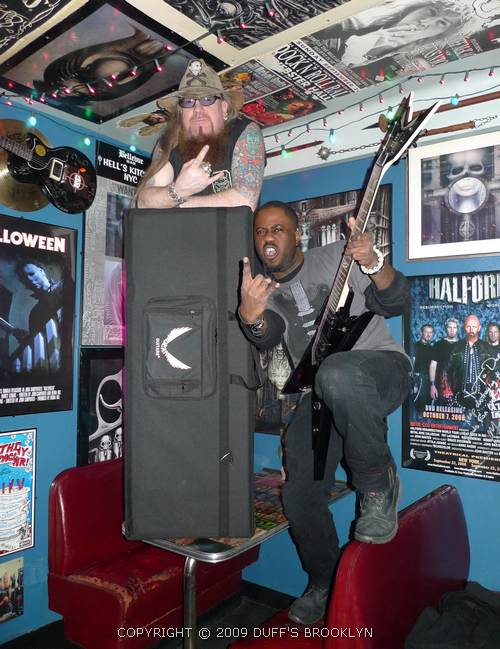 Another guitar raffle, another guitarist winner! Takin' home the Dean Dimebag guitar this year was Wayne Cornwall, from Elmont, Long Island. Danny from Queens won the Pantera/Dimebag tattoo, generously provided by Beaver Tattoos. We raised $860.00 this year for VH1's Save The Music Foundation, which takes our total amount raised since 2005 to $6,950. We're gonna throw in an additional $50 to to bring that number to a nice even $7,000.
A big thank you to John P. at Dean Guitars for generously donating the killer guitar and case, Beaver Tattoos for contributing to the fun with a piece of permanent art, and of course, John C. for all his behind scenes help. Last but not least, many thanks to everyone who took a chance for a great charity - that makes everyone a winner.
You can contribute directly to the VH1 Save The Music Foundation HERE.
Photo by J. Sanchez
December 23, 2009
Holiday Bash & Dimebag guitar/tattoo raffle : TAKE 2
Due to the blizzard last Saturday, we were forced to reschedule our party to THIS Saturday, Dec. 26th.
Also, we will be OPEN on Christmas Day, 8 PM to 4 AM
Happy and safe holidays everyone - From your friends at DUFF'S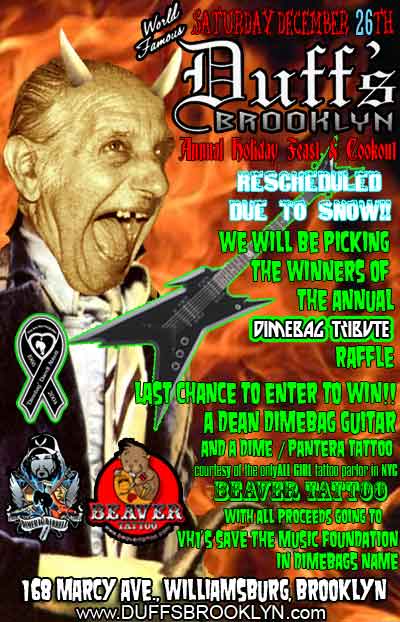 December 15, 2009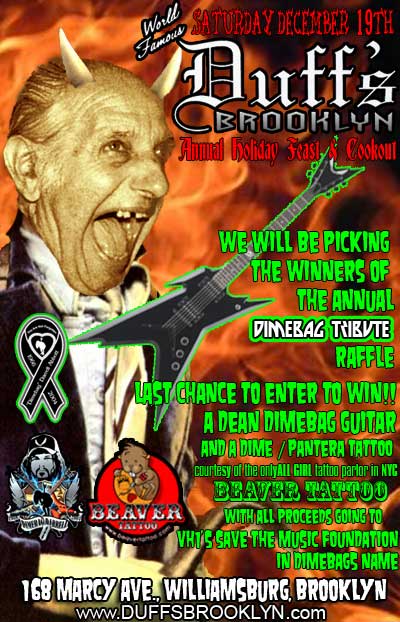 November 27, 2009
5th ANNUAL DIMEBAG BASH / GUITAR RAFFLE
SATURDAY DEC. 5th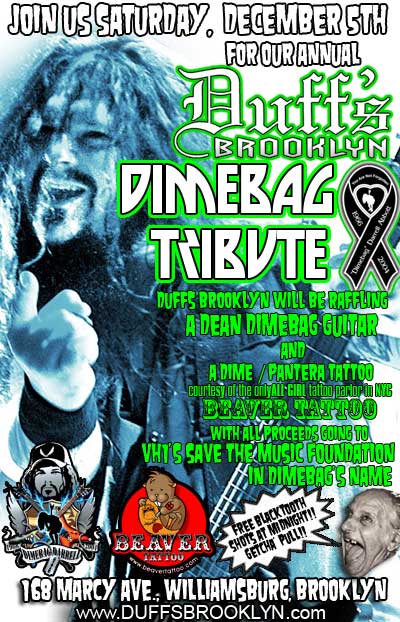 This December 5th DUFF'S will be hosting our 5th annual Dimebag celebration, a party celebrating the life and times of "The Idol" on what would otherwise be a very somber occasion. We will once again be raffling off a Dean Dimebag Guitar, generously donated by our friends at
Dean Guitars
, with the winner being announced at our annual holiday party on December 19th. This year we also be giving away a Dimebag/Pantera tattoo (your choice) provided by
Beaver Tattoos
in Queens, NY ( An all girl tattoo shop - Nice! ). All proceeds from the raffle will go to the
VH1 Save The Music Foundation
. To date, we have given away 4 guitars and raised over $6,000 for charity and we look forward to bumping that amount up even more. Save the date and join us for a good cause on one of traditionally most over the top, fun nights of the year at the bar.
The fine print : Previous winners, and current and former DUFF'S employees are not eligible. Winner need not be present when winning ticket is picked. Winner of the tattoo prize must be 18 years of age or older. Tickets can be purchased by mail, for details email duffsbrooklyn@aol.com.
November 18, 2009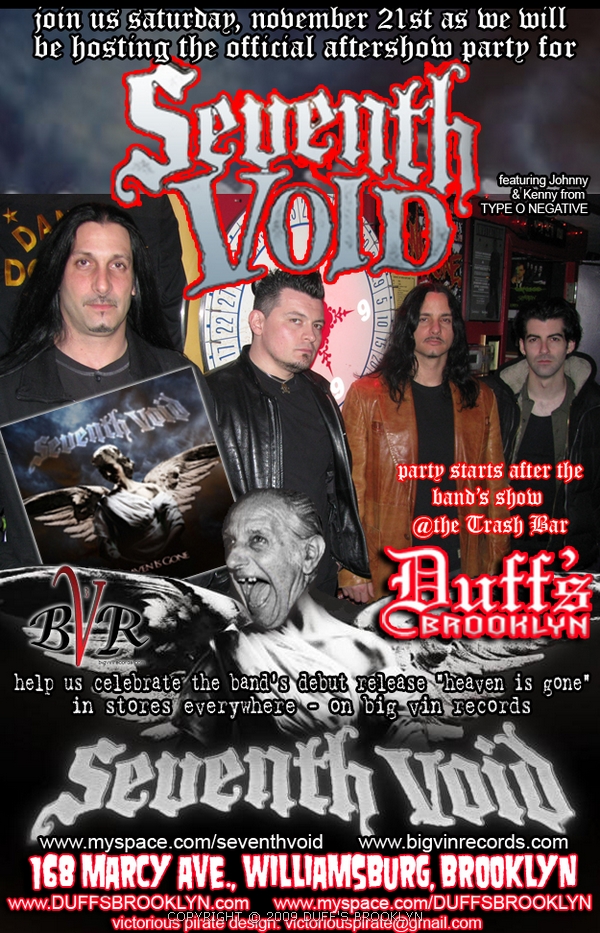 November 5, 2009
SLAYER PARTY WRAP-UP
The official SLAYER CD release party the bar held for "WORLD PAINTED BLOOD" was a fuckin' riot !! The disc sounded awesome cranked up good and loud as it should be, and by the end of the night, the bar was totally cover in SLAYER BLOOD. A great, great night, and everyone in attendance left with free SLAYER swag. We hope to see the highest charting SLAYER album to date when the sales numbers on W.P.B. are released next week. SUPPORT - BUY, don't download !
Special thanks to everyone who came out for the party, Nightcrawler, Sony, and of course, the mighty fuckin' SLAYER for giving us the privilege of hosting this very special event.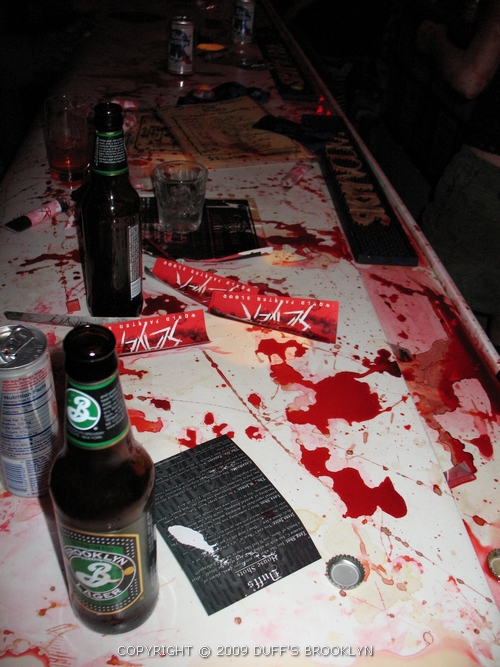 October 6, 2009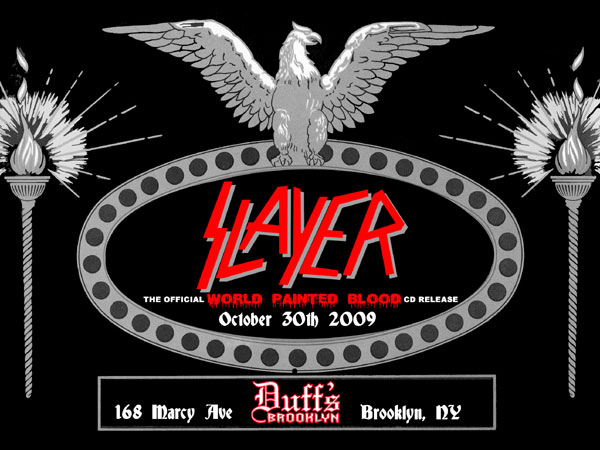 Join us here at NYC's METAL MECCA, Friday October 30th, as we'll be kicking off our Halloween weekend, appropriately enough, with the official CD release & listening party for SLAYER'S new album - WORLD PAINTED BLOOD (Sony, U.S. Release date : 11/03). We'll be giving away free WORLD PAINTED BLOOD merch and autographed copies of the best selling DECIBEL magazine to date - The SLAYER ISSUE. As always, there's no cover, and the event is 21 and over to attend, 9 PM start time. More details TBA here.
September 10, 2009
Sumertime wrap up
Finishing up the rockin' summer, the first in the new spot - a summer that saw tours from some of the most legendary HR/HM bands ever : Judas Priest, AC/DC, Slayer, Black Sabbath with Dio, and last night, Motorhead. Ya gotta get out there & see these bands if at all possible because, sadly, they won't be around forever. As for the future, we've got a bunch of cool events in the coming months at the bar, including the official CD release party for a band you may have heard of ... All details will of course be announced here first on all events, so be sure to drop in every once in a while to see what's doin'. Meantime, enjoy the best season of em' all, Autumn ( or, as we call it here in the states: "the fall" ) - JIMMY DUFF
October 5, 2009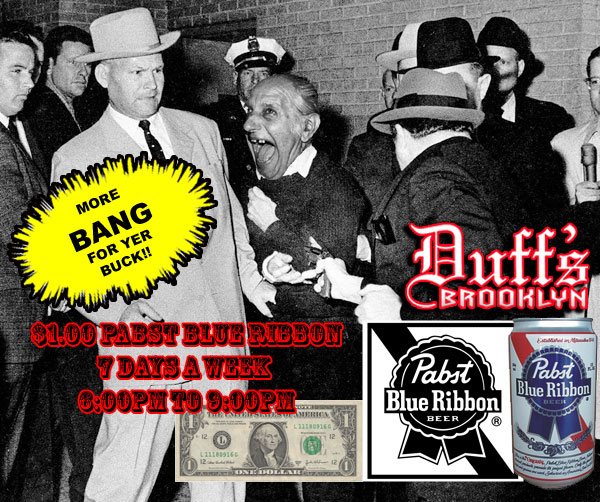 August 22, 2009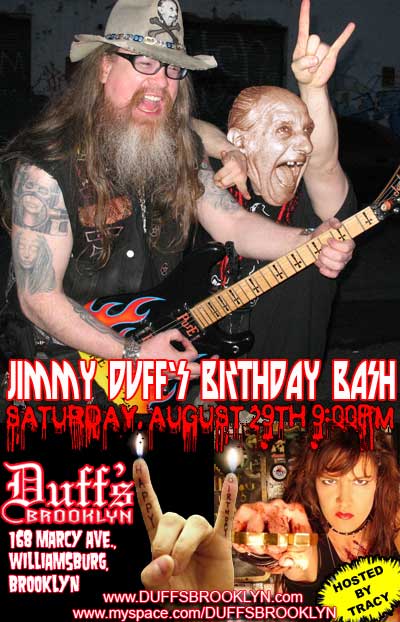 August 17, 2009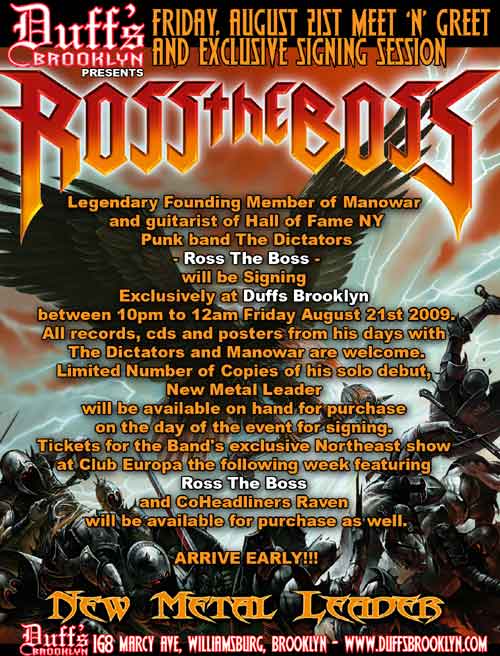 August 10, 2009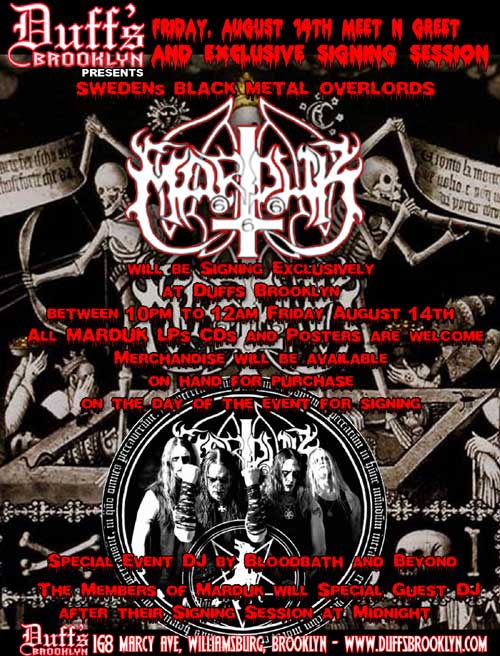 July 9, 2009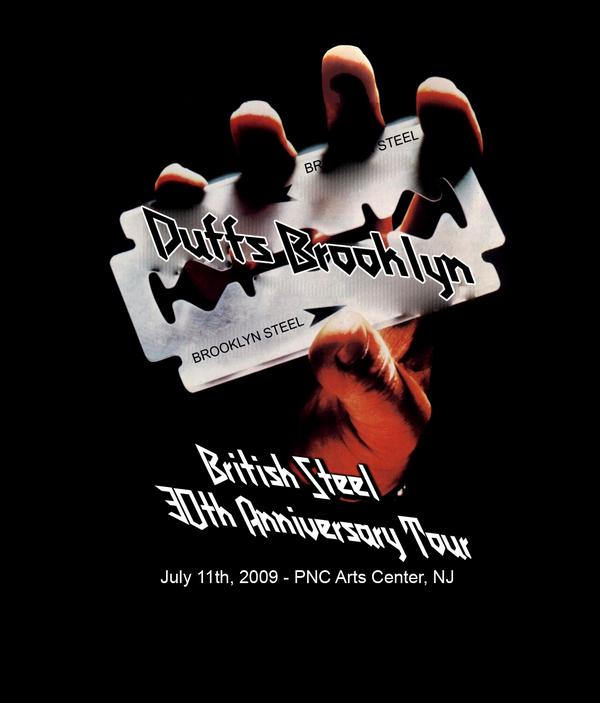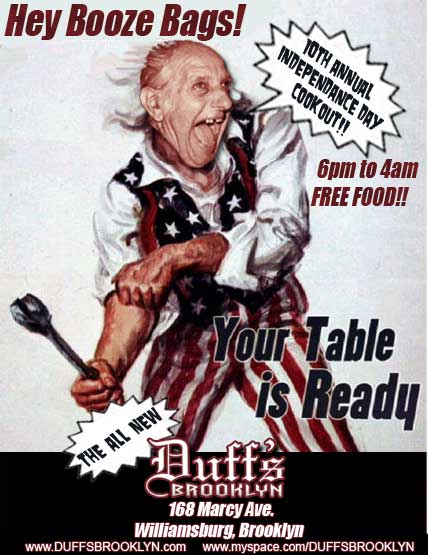 June 20, 2009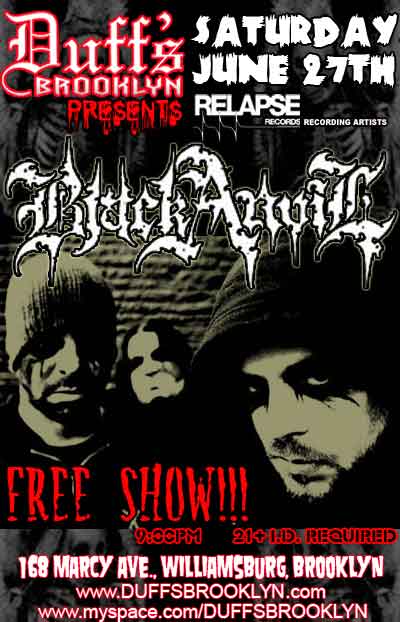 June 15, 2009
DUFF'S shout out in The New York Daily News from Evan Rachel Wood, 6/14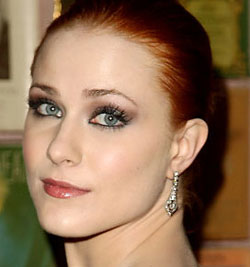 Where could we meet you, then?
Duffs - the heavy metal bar. You just might see me there.
June 11, 2009
TATTS
We've started yet another photo gallery here for your perusal, "TATTS". It's a collection of some of the more interesting, intricate, and sometimes outrageous tattoos that our customers sport here in the big city. The gallery is a work in progress, so if you do see your ink here, send us the artist credit so we can hook it up - Thanks. Help keep America beautiful - Get a fuckin' tattoo- Your friends at DUFF'S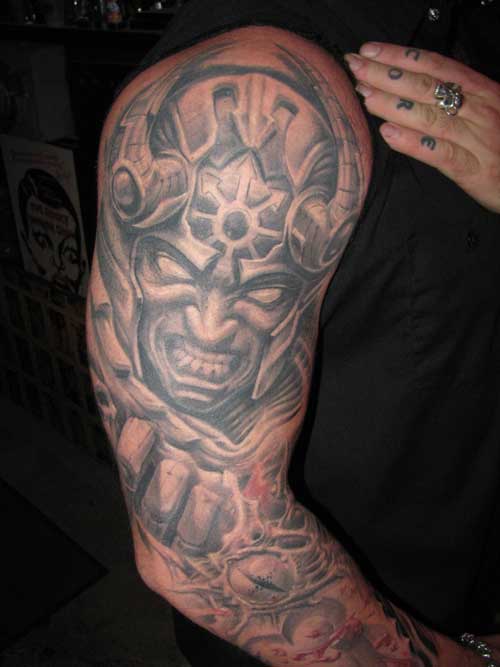 May 20, 2009
New Bling : The Dom Ring
Here's the latest in serious metal wear - The new Dancin' Dominick ring, custom fabricated for DUFF'S by the super talented Eli Livingston. The ring is made out of silver, and weighs in at a hefty 8 ounces. This is one of a kind piece for the moment, with limited run being made to the public down the road. We'll let you when. In the meantime, if you happen see someone walking around with a Dancin' Dom impression on their face, you're sure to know where it was they made not such a good impression themselves. Dig it.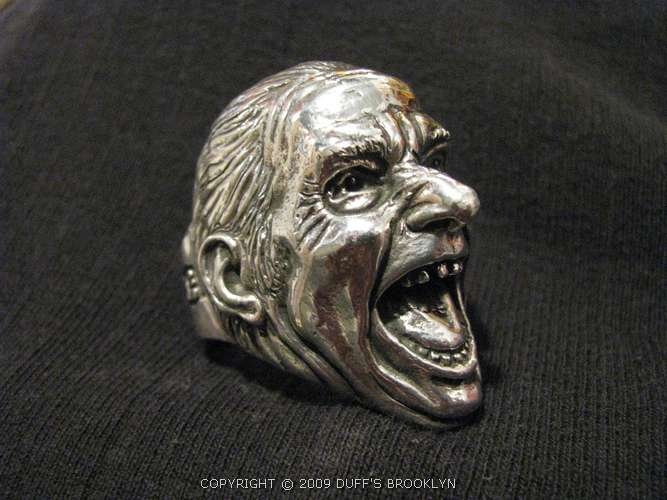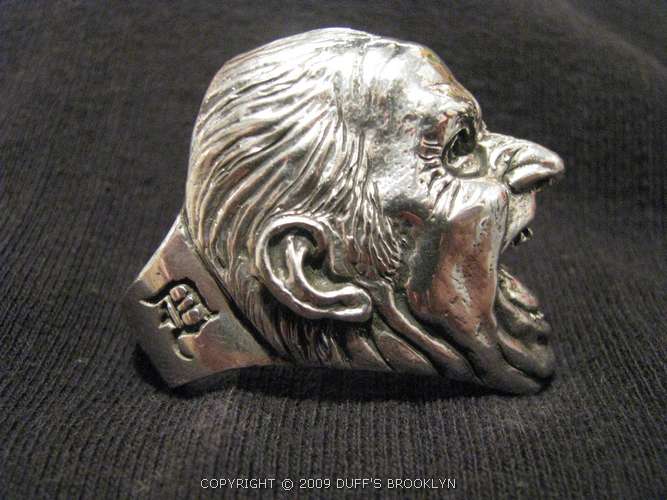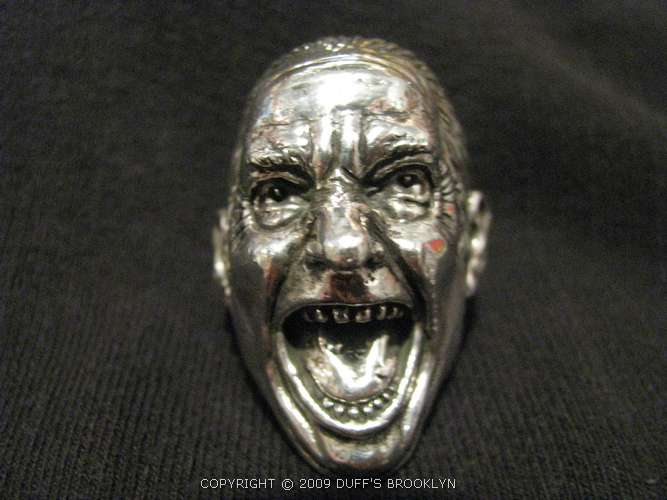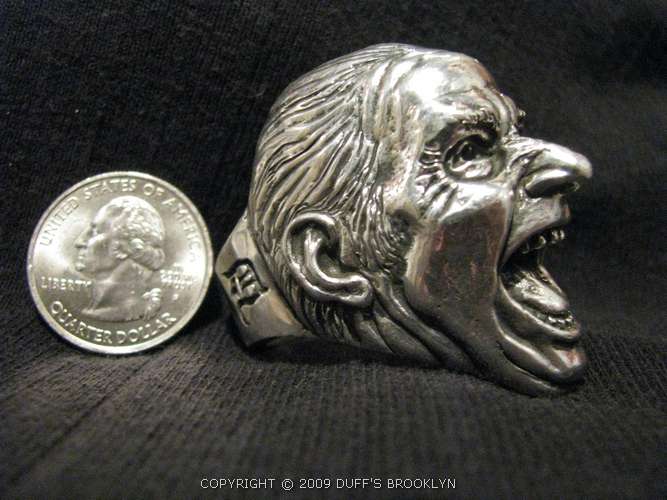 May 12, 2009
NYC Tattoo Convention Weekend - May 15th - 17th
2009 brings us the 12th annual New York City Tattoo Convention, one of the top conventions on the planet. The convention routinely attracts the world's finest artists and vendors, and as a result, it is very difficult to get a space if you don't have one already. Only the best need apply. This year, as always, there will be sideshow performers, collectors from all over, and of course, the famous tattoo contest. The convention runs from Friday through Sunday evening (Check out the NYC Tattoo Convention on Myspace). DUFF'S will be hosting various artists and collectors from the convention all weekend as well, so be sure to come down to the bar at night this weekend for plenty of colorful company.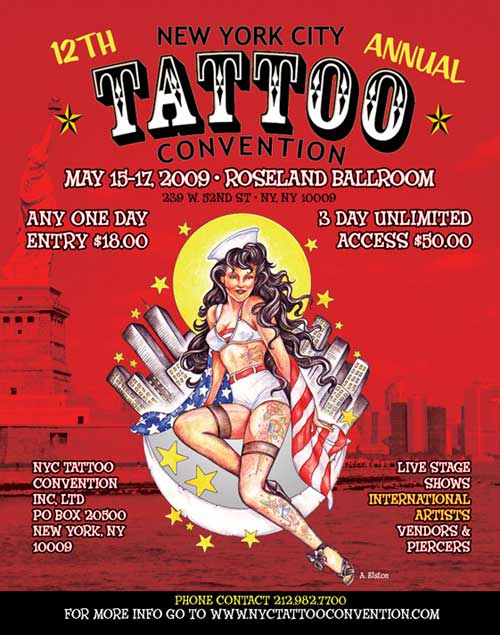 April 30, 2009
The Inking Continues
Here's the latest DUFF'S tattoos - Stay tuned for a new photo gallery here, featuring some of the far out and uncensored tattoos spotted at the bar !!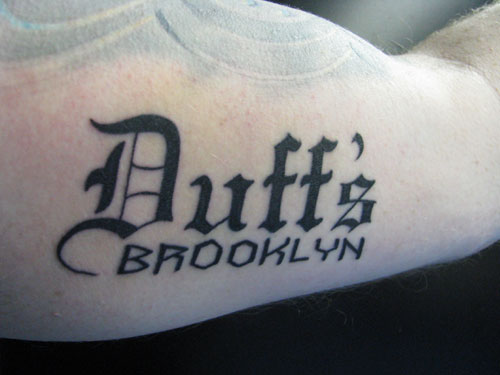 Work done by Chris Howell, Liberty Tattoos, Atlanta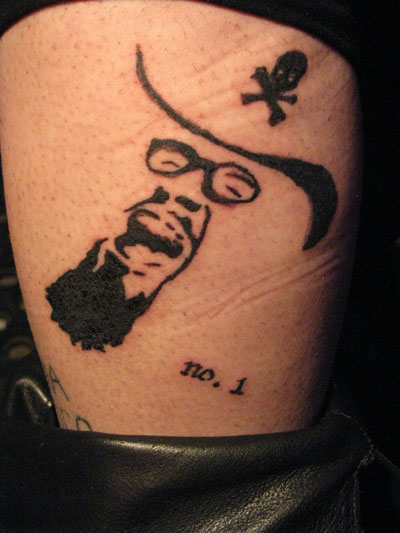 Work by Emily Conely, Harlem NYC
April 14, 2009
DUFF on Sirius XM Satellite Radio this Thursday, April 16th, 8 PM
Check out LIQUID METAL this Thursday as I'll be appearing on the channel with my right hand man NIGHTCRAWLER to promote this Saturday's Black Label Society's CD/DVD release party at the bar. We'll be hangin' with our good friend and host Jose Mangin, talkin' shop about all things metal, and of course, pickin' some classic heavy tracks ( WHAM!, KAJAGOOGOO, WARRANT, etc.) for your listening pleasure - JD
SIRIUS - Channel 27
XM - Channel 42
April 10, 2009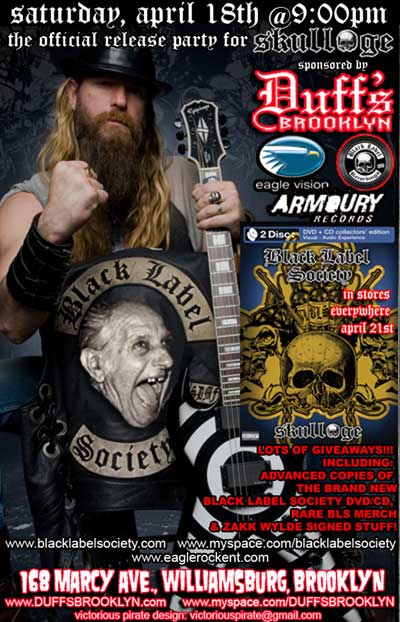 March 31, 2009
LAST CALL AT NORTH 3rd STREET - THE VIDEO
For those of you missed the last night at the old bar, and especially for those of you who participated, and can't remember ... Here's a rated PG version of some of the bits and pieces from the final night at North 3rd Street, including the extensive "remodeling" at the end of the evening. Turn your volume UP for full effect:
March 21, 2009
Listening/Release Party for QUEENSRYCHE'S "AMERICAN SOLDIER" Saturday, March 31st
Join us Saturday March 28th for a listening / release party as we spin the new QUEENSRYCHE disc, "AMERICAN SOLDIER"( Release date : March 31st ), the first time it will be heard publicly anywhere. Courtesy of our friends QUEENSRYCHE, ATCO Records, and RHINO, we will be giving away shirts, patches, dvds, signed copies of the album, and other one of a kind autographed items.
Party starts at 9 PM
As always, No cover charge
Must be 21 and over with ID to attend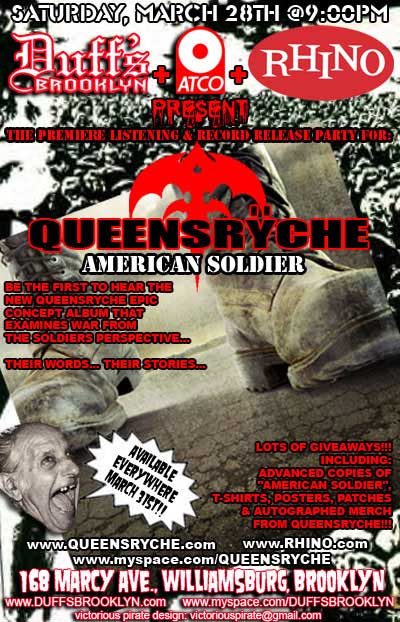 March 16, 2009
VIDEOPALOOZA
We've just uploaded the rest of "TALES FROM THE BARSIDE", a series of shorts where I discuss the bar's philosophy, stories of masturbating freaks and stalkers, and of course, Dancin' Dominick. In other words, good all American programing, just like tv, but here in convenient computer form. Enjoy - Jimmy Duff
Tales From The Barside - Dancin' Dominic
Tales From The Barside - Flowers
Tales From The Barside - No Handshakes
Tales From The Barside - Noise
Tales From The Barside - The Crazier The Better
March 12, 2009
SEVENTH VOID
Our friends in Brooklyn based SEVENTH VOID (featuring Johnny & Kenny from TYPE O NEGATIVE) did a photo shoot this week at bar for the June issue of Revolver magazine . The band is doing promo for their debut album "Heaven Is Gone", set to be released April 21st on Big Vin Records. The band will be having a release party for the disc on April 21 at Vinnie Paul's nightclub, The Clubhouse, in Dallas. In addition, SEVENTH VOID will also be holding a local release party at DUFF'S, date and details to be announced on this site and on the band's myspace page. The band's myspace page can be found HERE, where you can get more information, and hear the debut album's title track.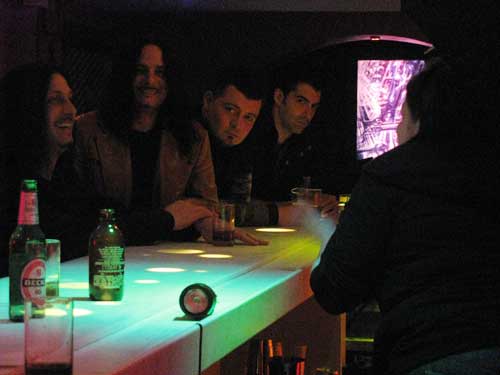 March 6, 2009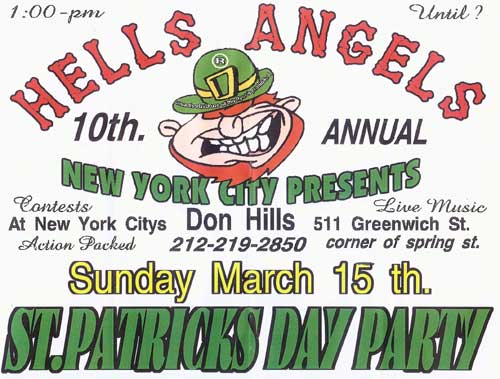 February 26, 2009
Metal Couture Photo Shoot / Marked for life, DUFF'S style
Our friends from Metal Couture dropped in last month to shoot their offerings for Spring 2009. Lots of cool pix from the shoot can be viewed HERE
SPRING 2009: Metal Couture rocked Duff's Bar in Brooklyn with a stellar metal line-up of models, musicians & rock personalities to show off the line's new Spring 2009 collection, including; Alex Skolnick (of Testament), Jose Mangin (Sirius XM's "Liquid Metal", Allison Hagendorf (Playboy's Rock The Rabbit), Melissa Mangin & M Lazar (of September Mourning). Photographs by Steve Prue & Karen Weiss.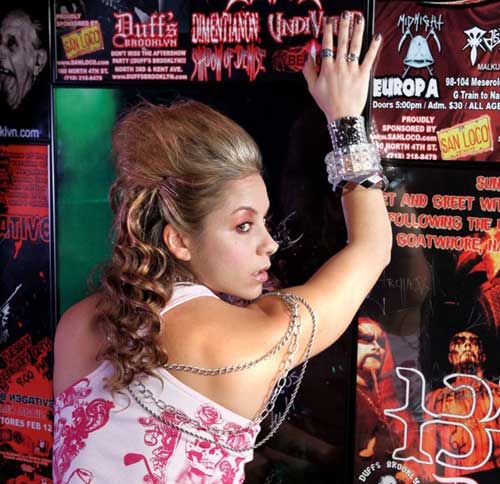 Now, speaking of stylin' & profilin', here's some serious ink for ya. In fact, it's probably the finest piece of work in the history of tattooing. The good news - EVIL BILL just insured himself of gettin' a ton of free drinks for the commitment. The bad news - DUFF'S BROOKLYN is turning into a gay disco, starting next month ( Just fuckin' with ya Bill !!! ). Gotta love it, seriously, we're all extremely flattered here - Thanks E.B.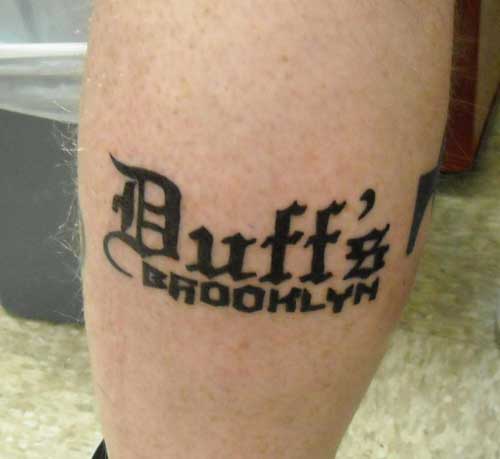 February 12, 2009
Lamb Of God CD Listening Party
On Saturday February 21st, DUFF'S, along with Skulls N Bones.com, presents an exclusive listening party for Lamb of God's killer new disc "WRATH" (Release date: February 24th). The party starts at 9 PM and the new disc will be played in it's entirety at intervals throughout the night.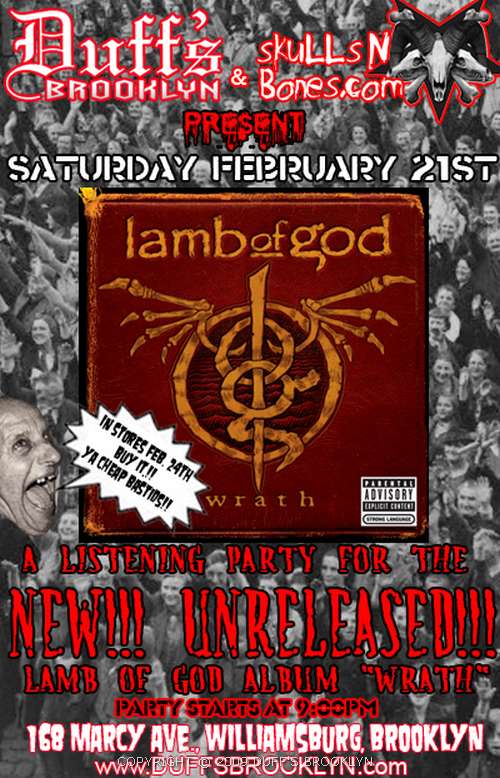 February 7, 2009
Wrap-Up: The Final Curtain on North 3rd Street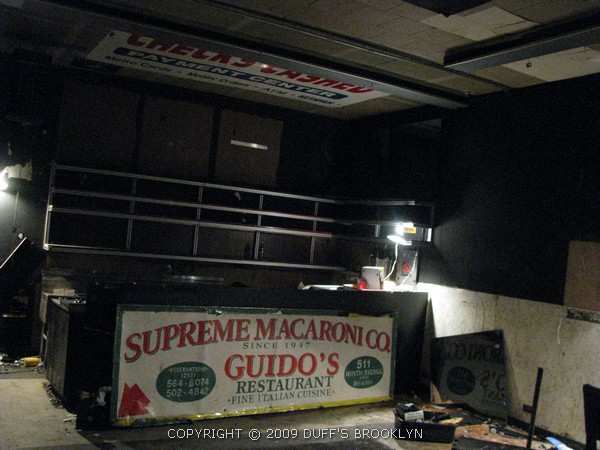 I've been getting a lot of people asking me what's the story with the bar's old location at North 3rd Street, aka " The Bunker". As planned, the space has been totally gutted, and is permanently closed. Demolition of the site is slated to begin as early as next week. It's gonna to be pretty fuckin' surreal to pass by the location one day and see a Starbucks or Baby Gap in it's place. Welcome to the new Northside.
Here's a cool email I received out of the blue from one of the demo folks:
Sir,
Just wanted to say that I did the pre-demolition environmental inspection of the old place and after looking over your web site and discovering what a historically significant landmark it truly was, I would like to say that it saddened me to have to do it. See I am a MAJOR metal head and grew up on Judas Priest mainly. Just wanted to say that wish I had known about it earlier and I would like to check out the new place on Marcy.
Fellow Metal Enthusiast,
Ed Townsend
Project manager
Environmental Consulting & Management Services
And that's that. There you have it, the end of the story for 28 North 3rd Street. - J.D.
January 31, 2009
New York Press Article/Cover story
This week The New York Press beat everyone to the punch with the first article (and cover story) on the bar's new location. To read the it click HERE.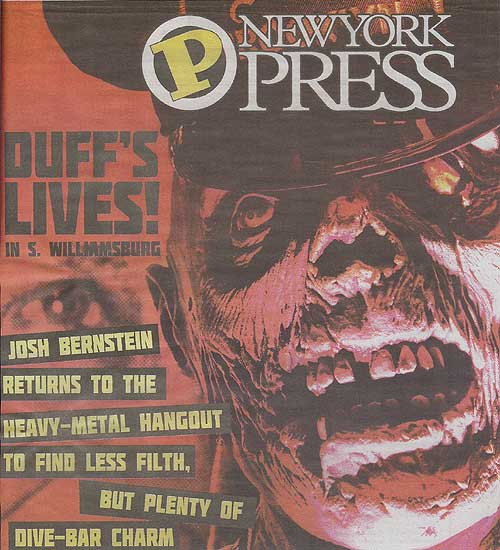 January 3, 2009
Anniversary Party:1999 - 2009 - Saturday January 10th
Join us this Saturday, January 10th as the bar celebrates 10 years of rockin' New York City !!
It's been a seriously wild and varied trip as we hit 2009 (now with the bar in it's third location) in a city that has changed quite a bit since we began. We've had to stay on the move because the war with the yuppies for NYC, which started in the 1980's, has unfortunately been lost. No matter, nobody told us. We have managed to succeed regardless, to say the least. You can count us to keep flying the flag for hopefully another 20 years as we'll continue to stay true to the original vision of the bar - Old school, decadent NYC.
To help mark the occasion online, we're gonna throw the bar's myspace page a bone with a new photo album - A look back over the years with 100 or so never seen before photographs. I guess you could call em' "new" photos, they're sure to be new to you. Check em' out HERE in the photo section.Many thanks to everyone for the all the support over the years - At the end of the day, you're the ones that have, and continue to make it all possible. - Jimmy Duff
Our Motto : "To some it's business, to us, it's a lifestyle"