THE NEWS
January 26, 2018
Our 9th Annual Blood Drive is Thursday, February 1st, 6pm to 4am. Everyone who gives blood, or attempts to give blood, will receive a free custom event shirt (see image below).
GIVE BLOOD - SAVE LIVES
From the New York Blood Center:
Come shed some blood for the greater good in a famous Heavy Metal Bar. The World Famous Duff's Brooklyn 9th annual blood drive is Thursday 2/1 from 6:30-11:00pm. The blood drive will be held on our "Blood Vessel" mobile bus but go IN the bar before or after you donate. This blood drive is a sentimental favorite! You won't feel out of place if you don't know Slayer from Black Sabbath. You will still be saving lives and meeting the cool and generous humanitarians who party at the jewel of Williamsburg bar land. No other blood drive is this blood drive!
For questions about eligibility to donate due to travel outside the U.S., medications or medical conditions, call 1-800-688-0900.
For information about the Donor Advantage Program, please visit www.mydonoradvantage.com.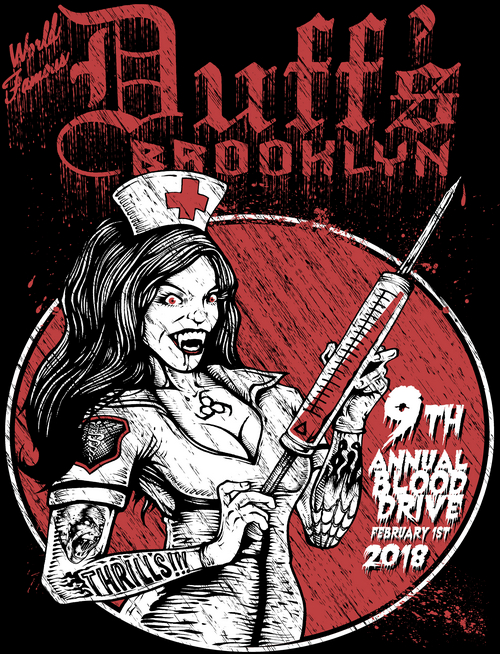 January 23, 2018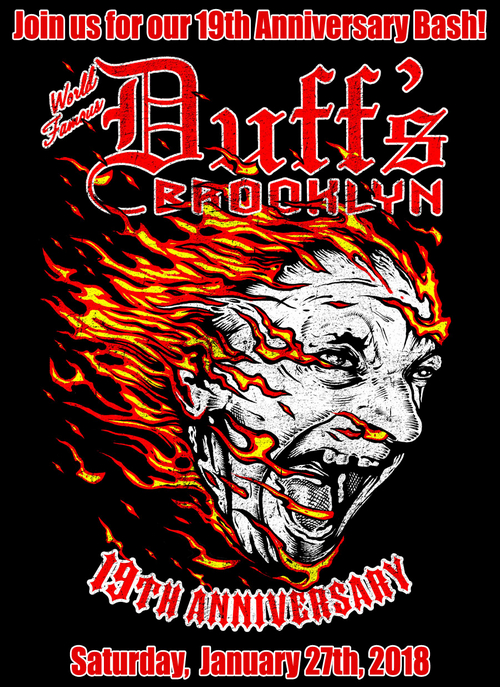 January 6, 2018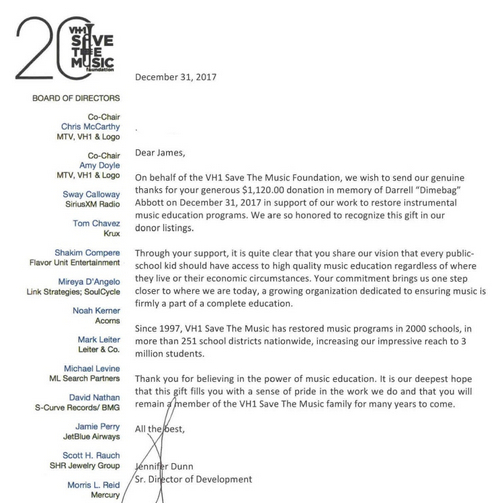 January 1, 2018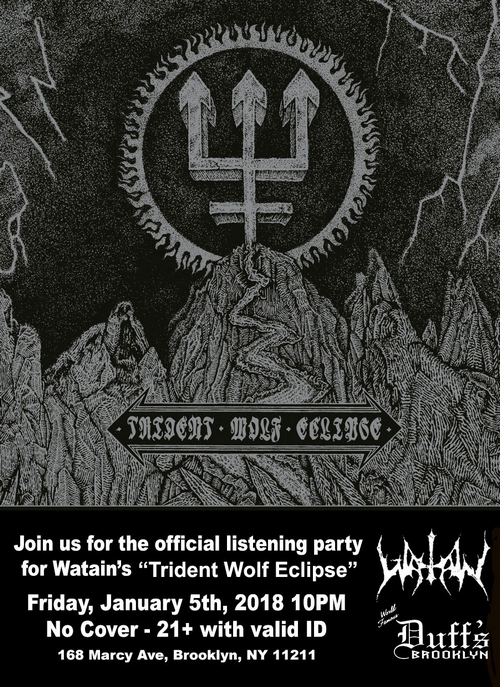 December 31, 2017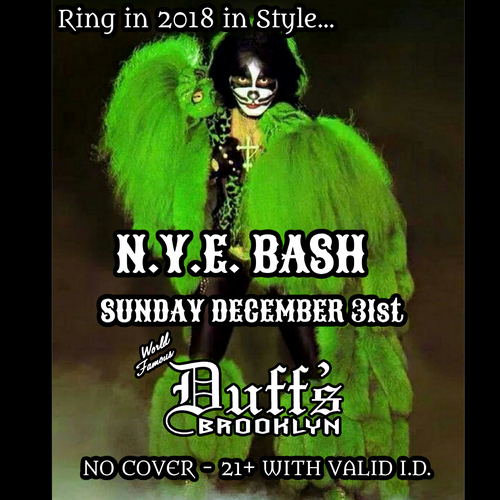 December 29, 2017
2017 Dean Dimebag Guitar Raffle Wrap - Up
Congratulations to our 2017 Dean Dimebag Guitar winner, Tamara Hein, from Long Island. This year we raised $1120 for The VH1 Save The Music Foundation. Out thanks to everyone who participated this year. If you'd like to contribute to S.T.M.F directly, here's a link to their web site: http://www.vh1savethemusic.org/
Happy New Year everyone, from your friends at DUFF'S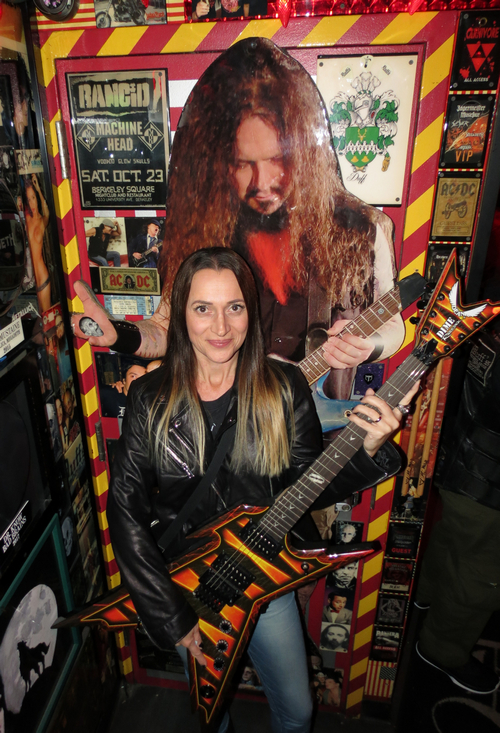 December 17, 2017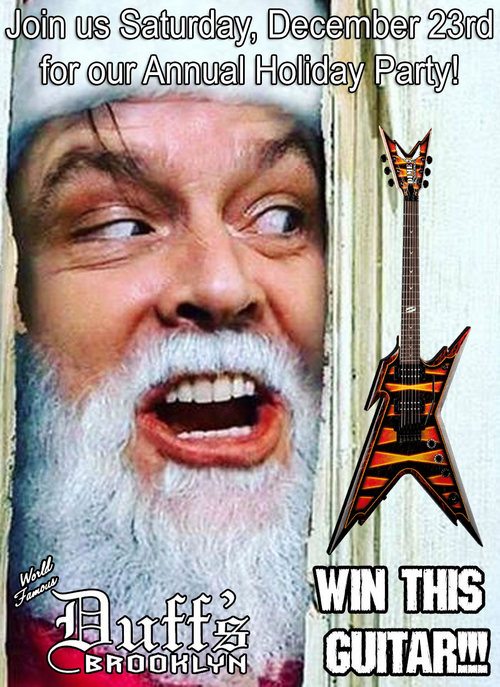 November 30, 2017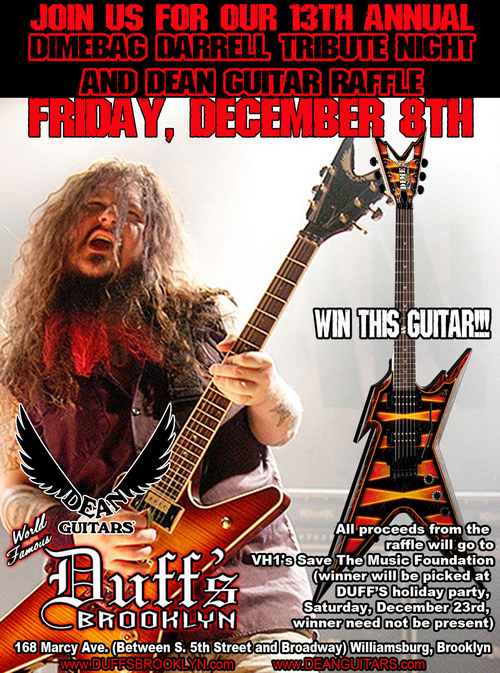 October 25, 2017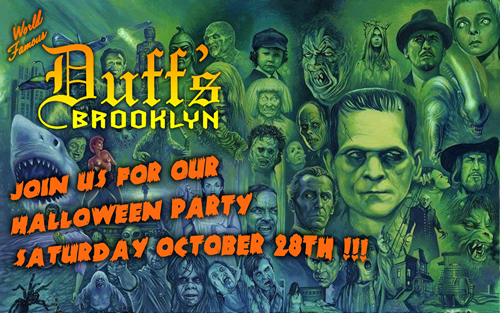 September 15, 2017
Free Tickets
Starting today, we will be giving away tickets to Metal shows at our neighbors - The Knitting Factory. Follow us on instagram for your opportunities:
http://instagram.com/duffsbrooklyn
The giveaways will be nice and simple, no pain in the ass hoops to jump through.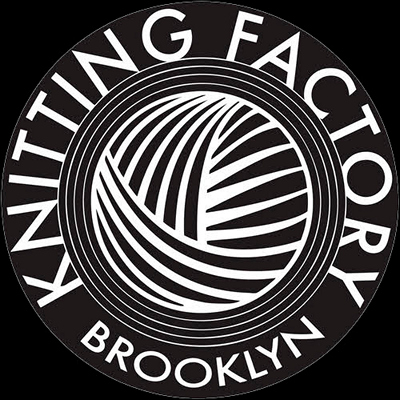 August 23, 2017
UPDATE!
August 10, 2017
Heads Up!
Our 11th Annual WINGFEST, which usually happens around the end of August, is being pushed back into September this year.
As soon as we have the new date, we'll let you know.
Wingfest - noun; An annual event at Duff's, which features 200 pounds of free chicken wings, seasoned with the world's best hot sauce, DEFCON.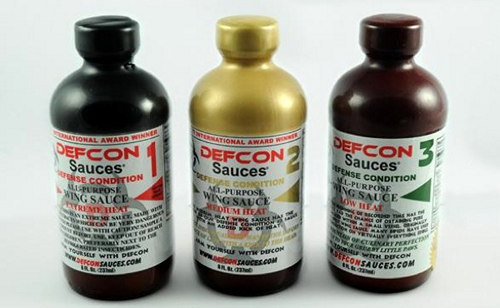 July 30, 2017
FOLLOW US ON INSTAGRAM
Posting Daily
Duff's Brooklyn (@duffsbrooklyn) • Instagram photos and videos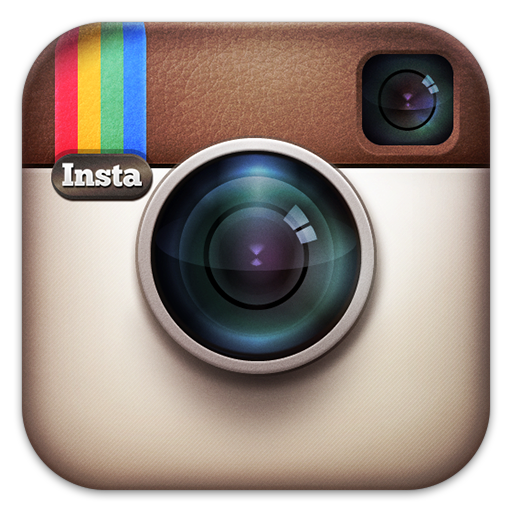 Duff's Brooklyn (@duffsbrooklyn) • Instagram photos and videos
June 6, 2017
We are "Creepy and Crawly" - Duff's in last week's Time Out New York

May 14, 2017
North Shore Animal League America sends Thanks
This year's Peter Steele tribute raised a record $6,585 for the North Shore Animal League. For everyone who contributed in the Big Guy's memory, this Bud's for you: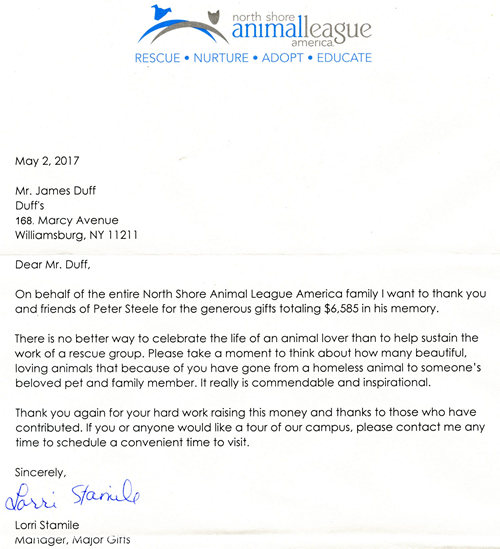 Peter Steele Tribute Night
Our 2017 Peter Steele tribute night will be held at the bar on Friday, April 14th.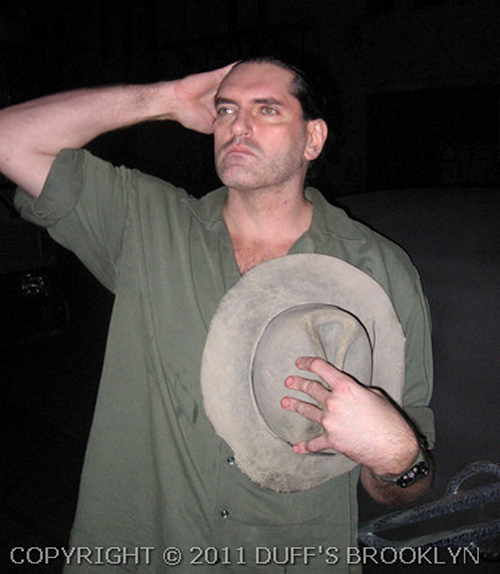 March 17, 2017
Jimmy Duff named a "Brooklyn 100 Influencer" in Brooklyn Magazine's Annual 100 Most Influential People Brooklyn Feature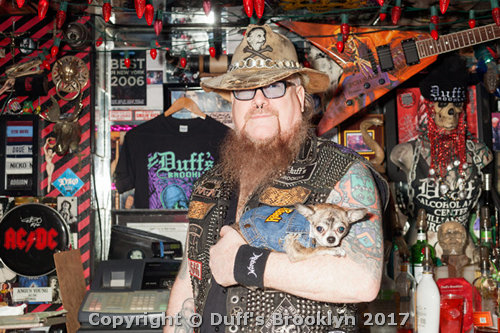 March 5th, 2017
Thanks coming a little late this year, but it's all good.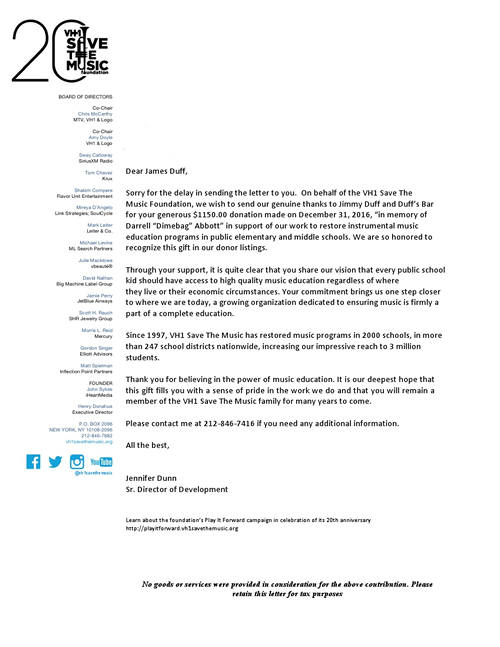 February 7, 2017
Duff's featured in "Bar Tab", a column in The New Yorker Magazine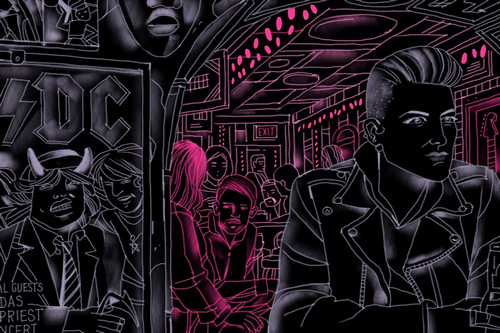 Illustration by Jorge Columbo, courtesy of The New Yorker Magazine
January 30, 2017
DUFF'S 8th ANNUAL BLOOD DRIVE
Our 8th annual blood drive is this Thursday, at the bar, from 6:30PM to 11PM. Free refreshments will be served, courtesy of The New York Blood Center. In addition, all donors, and all those who attempt to donate, will receive a free Duff's blood drive t- shirt (image pictured below). Please donate if you can, or pass on the information to a friend - Giving blood saves lives !!!
GIVING BLOOD = VERY METAL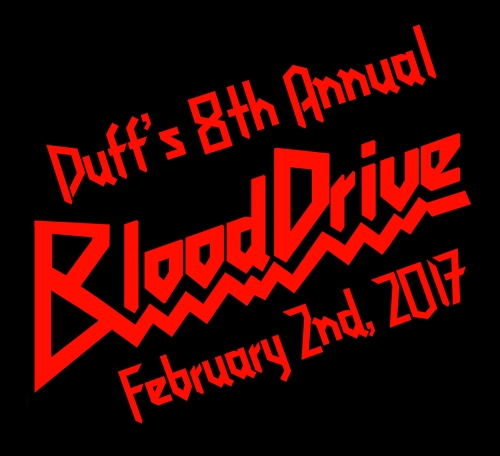 January 25, 2017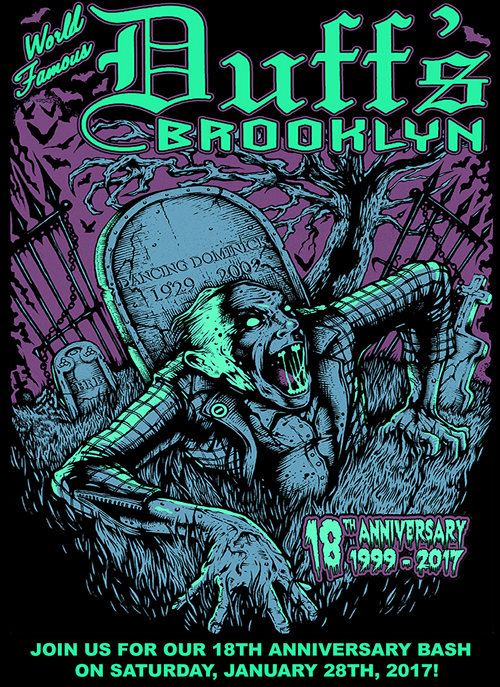 December 28, 2016
Congratulations to Williamsburg native "Biker Joe", who won our 2016 Dimebag guitar raffle. We raised $1150 for VH1's Save The Music Foundation this year - Our thanks to everyone who participated!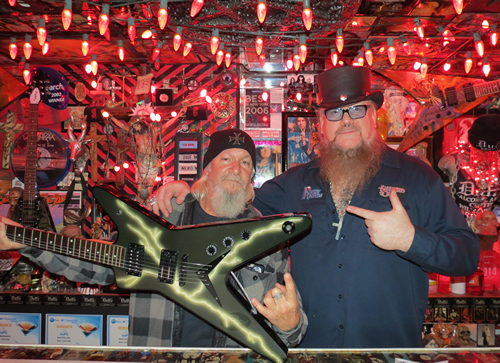 December 24, 2016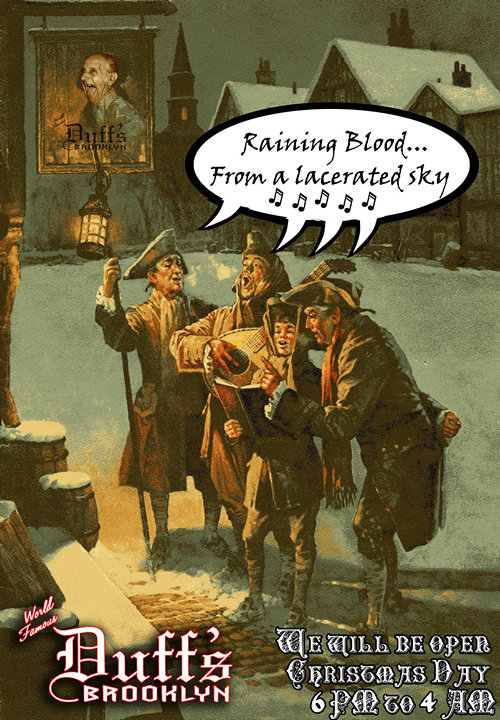 December 19, 2016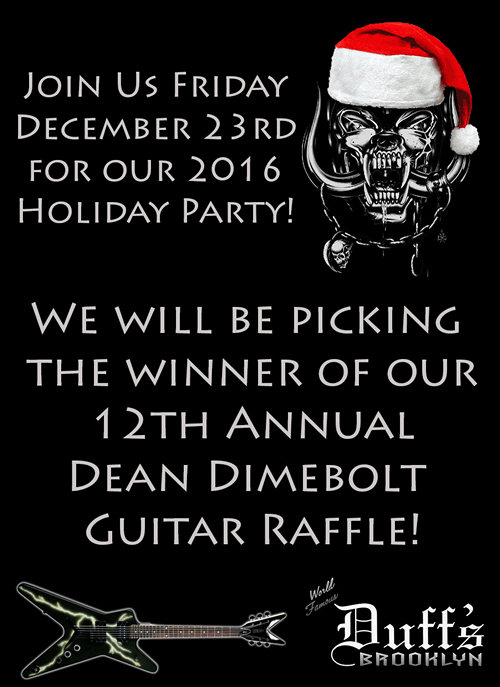 December 12, 2016
Duff named decibel magazine's "Reader Of The Month" for Jan. 2017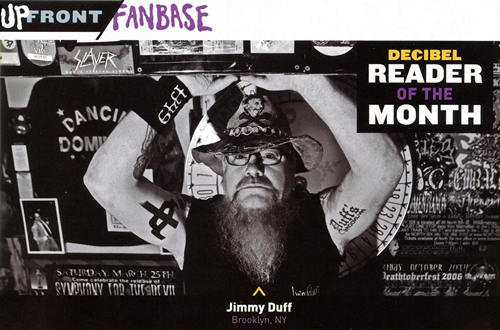 Get more Decibel here:
Decibel Magazine
December 1, 2016
Rolling Stone - "Secret Metalhead" ??!?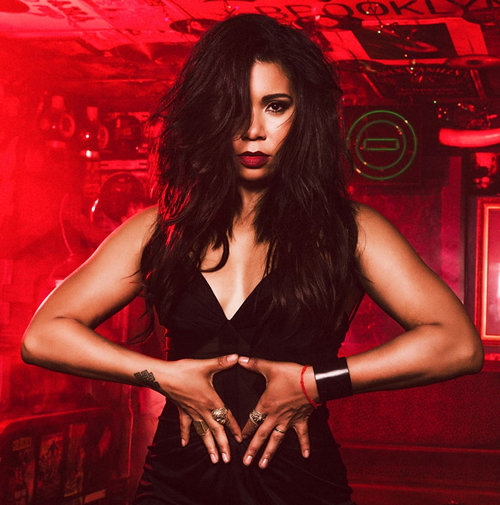 November 28, 2016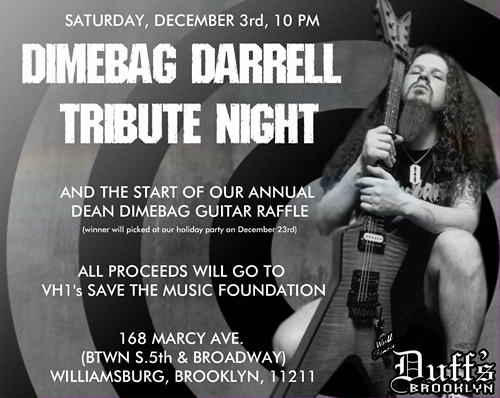 November 15, 2016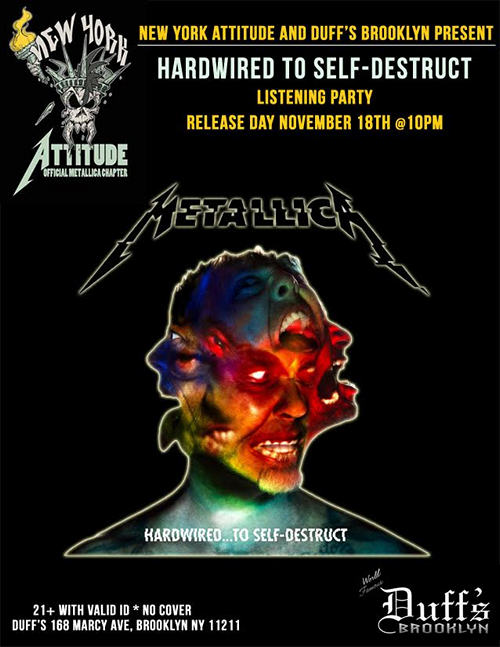 November 9, 2016
Duff's named one of the top 10 Jukeboxes in New York City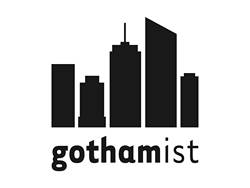 From Gothamist.com:
"DUFF'S: It's no surprise that New York's ultimate metal bar is also home to one of the best hard-rocking jukes as well. Headbang your way through selections from Metallica, AC/DC, Iron Maiden, Slayer, Coheed and Cambria, Manowar, Dismemberment and more. Sure, the place looks like a heavy metal word cloud come to life, but one thing that's not scary about Duff's is the friendly server and relaxed crowd. If you're feeling adventurous, take a spin on the bar's "Wheel of Misfortune," where you could "win" free jukebox plays, drinks, 15 minutes in a gimp cage or a "Coney Island whitefish" shot (google it, if you dare)."
View the entire article here:The 10 Best Jukeboxes In NYC: Gothamist
October 31, 2016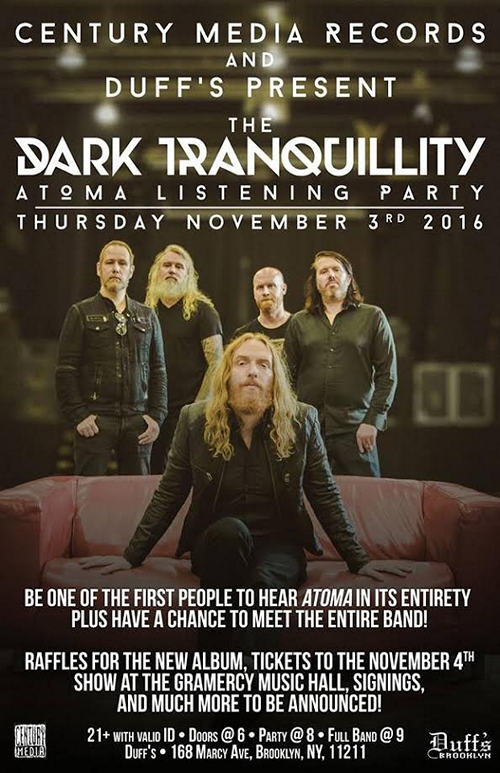 October 23, 2016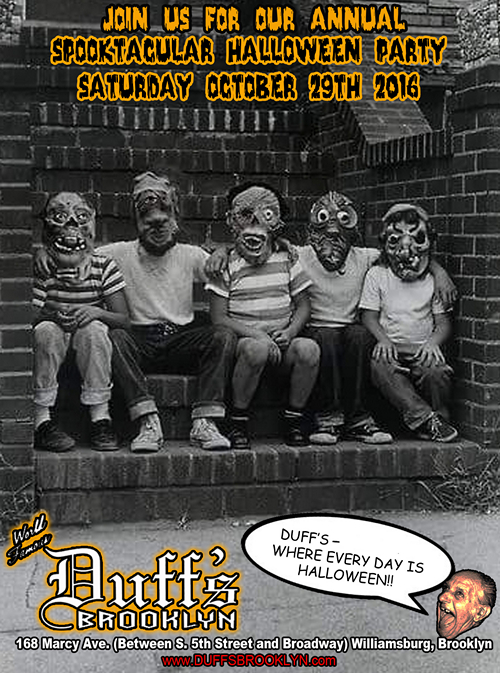 October 18, 2016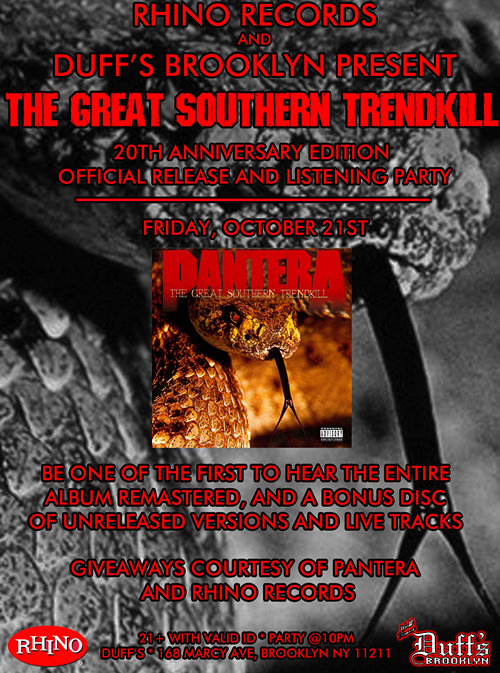 October 14, 2016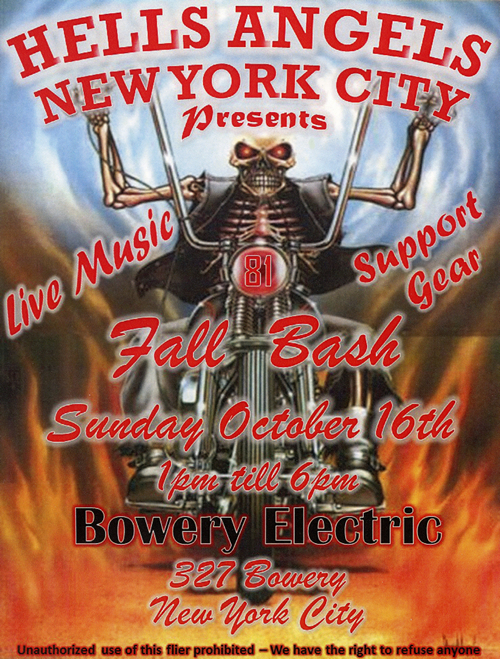 September 28, 2016
Richard Christy Reppin'
Our good Buddy Richard Christy showin' Duff's some love in the new issue of Decibel Magazine.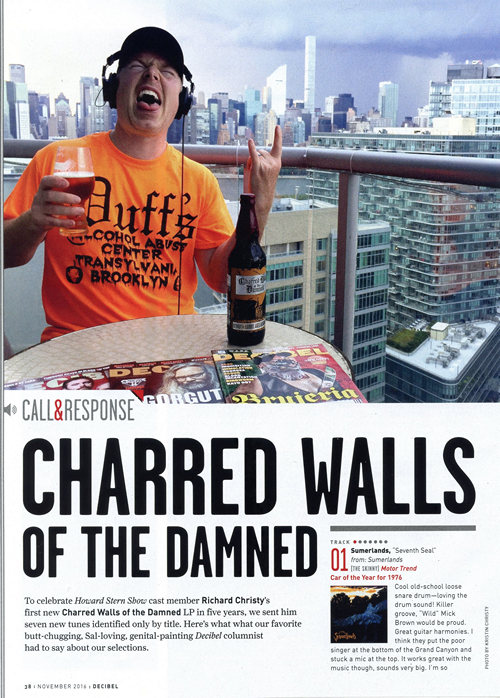 August 14, 2016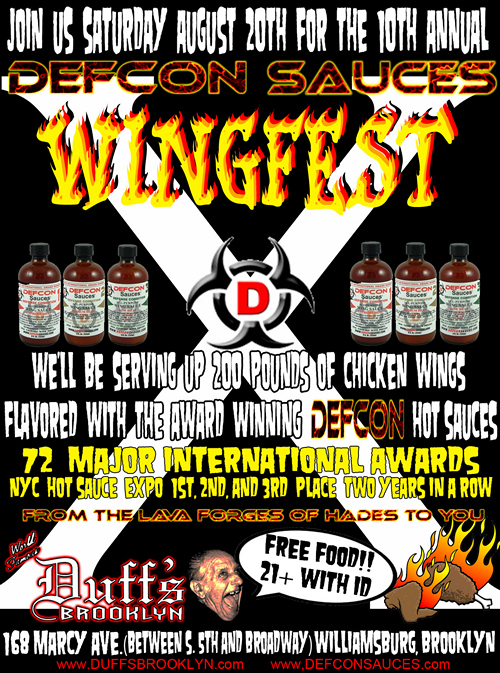 August 10, 2016
Another Duff's Wedding
We'd like to publicly congratulate Mr. and Mrs. Joseph Berenger, who were married at the bar last week by Reverend Jimmy Duff. They are the 4th couple to be married at the bar, and we wish them much health and happiness in their life together.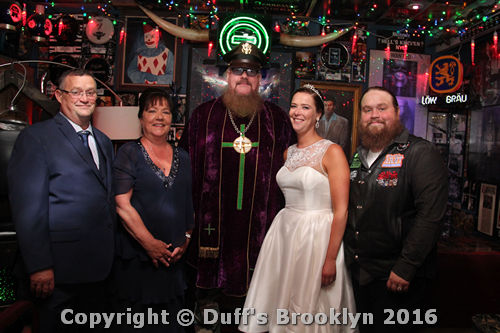 July 28, 2016
Follow Us On Instagram
For daily posts and updates, follow Duff's on Instagram: https://www.instagram.com/duffsbrooklyn/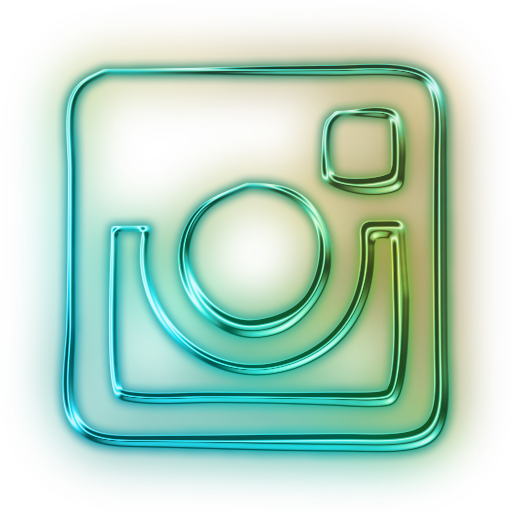 There is an Instagram Button at the Top of this page.
June 13, 2016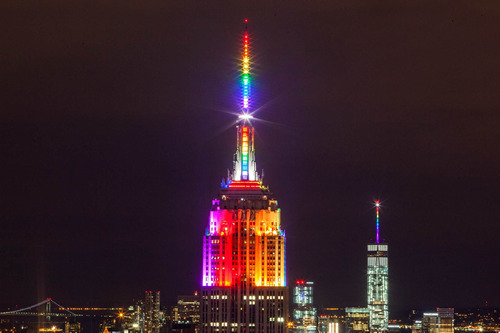 May 31, 2016
Lacuna Coil visits
Our buds , Lacuna Coil, stopped by the bar for some good times last week on their night off. The band is currently on tour promoting their new album "DELIRIUM" (which released Thursday, May 27th).
Lacuna Coil - Delirium - Amazon.com Music
If you missed their local show last week, band will be returning to NYC Thursday, June 9th at The Gramercy Theatre.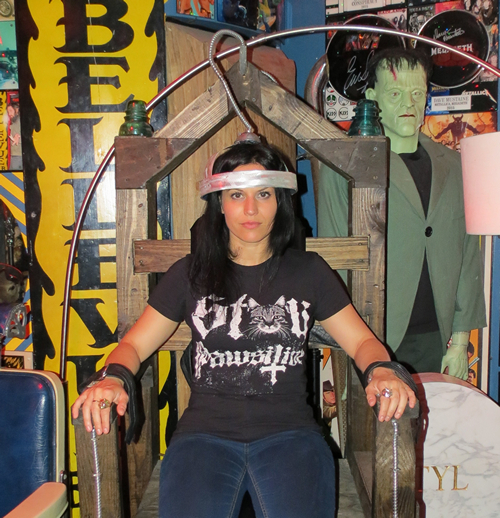 May 16, 2016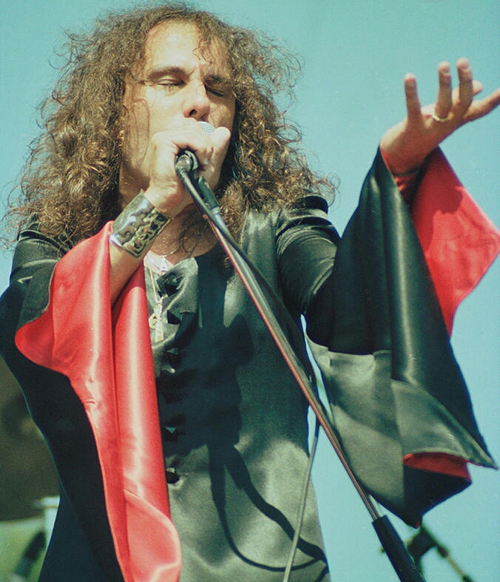 April 21, 2016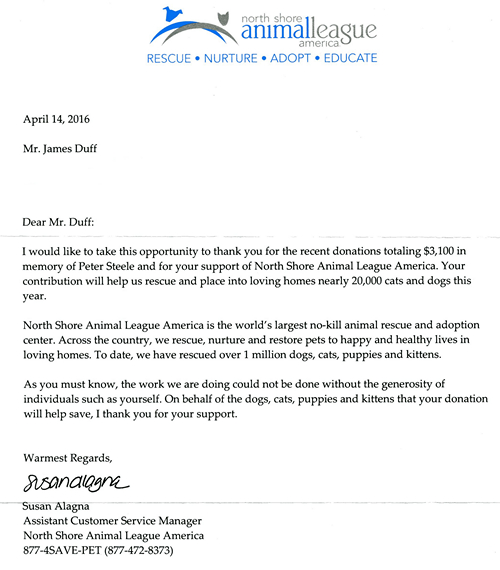 April 17, 2016
Peter Steele annual tribute night wrap-up
Our annual Peter tribute night was a great time, and a tremendous success - We raised $3100 in tribute tee shirt sales (a record amount for the event). All funds have been donated to The North Shore Animal League Of America, in memory of Peter Steele. We'd like to thank everyone who participated in the event, especially Johnny and Kenny (and Slitzty!) from Type O Negative, Peter's sister, Cathy, and as always, Joey Hernandez for designing the charity shirt.
"Don't go there to mourn, but to celebrate" R.I.P. Peter Steele, 1962 - 2010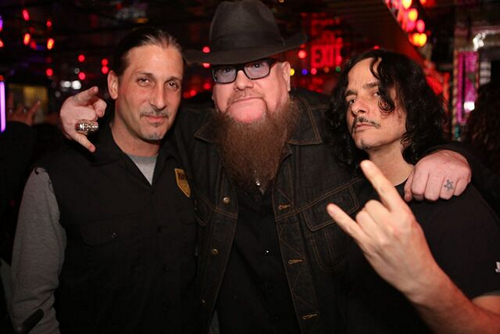 April 3, 2016
Annual Peter Steele Tribute Night
This Saturday, April 9th, Duff's will be hosting our annual Peter Steele tribute night at the bar. In what began as an informal gathering of fans every April (And still remains"informal"), has grown into an annual event. Every year, people come to the bar this night from all over the country (and someone from Thailand one year!) to celebrate all things Peter. We also sell a tribute shirt, authorized by Peter's family, with 100% of the proceeds to benefit The North Shore Animal League. The party starts at 9PM, and as always - No cover charge, 21+ with valid ID.
March21, 2016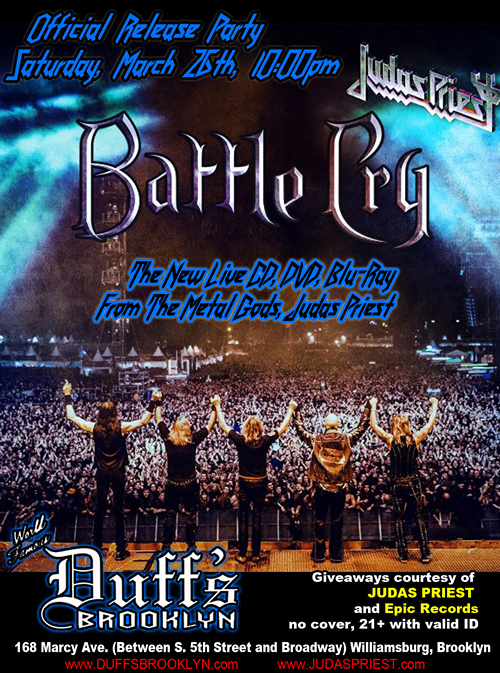 March 19, 2016
Go to HELL, in the best possible way...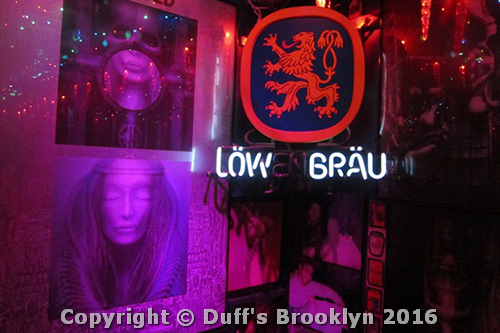 March 14, 2016
10 New Photos have been uploaded to the Photo Galleries
March 9, 2016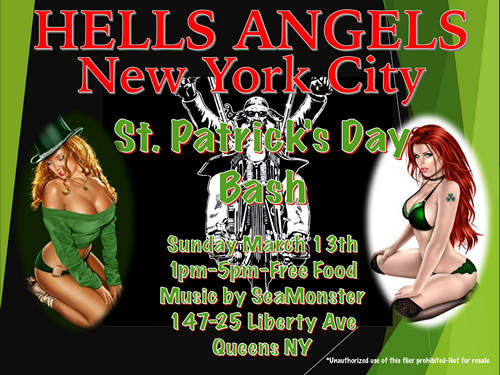 March 1, 2016
Peter Steele Tribute Shirt Presale
Our annual Peter Tribute Shirt is now on presale starting today, and it ends next Tuesday at midnight. The shirts are shipped worldwide (inquire about shipping rates), and will ship by April 11th, 2016. 100% of the proceeds from the shirts will go to The North Shore Animal League. More details on our annual Peter Steele tribute night TBA. Here's the link for the shirts and The Boneyard Rock Shop: store.boneyardrockshop.com.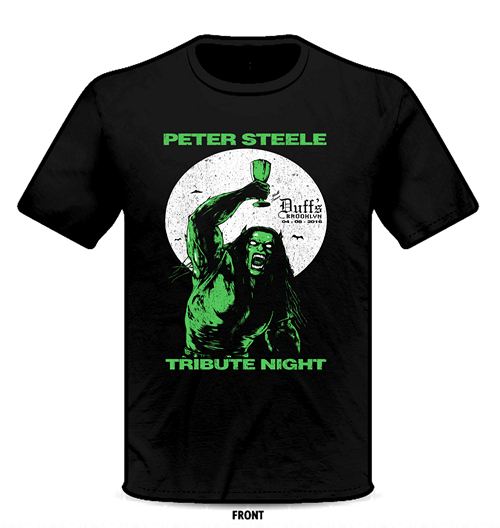 February 23, 2016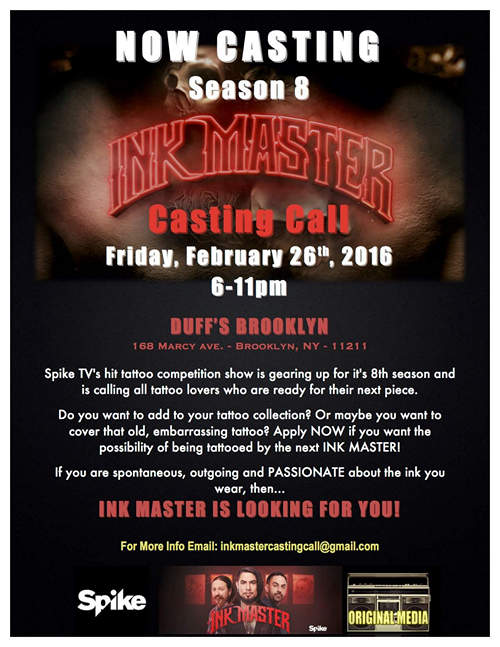 January 31, 2016
Duff's 7th Annual Blood Drive, Thursday February 4th, 6 PM to 11 PM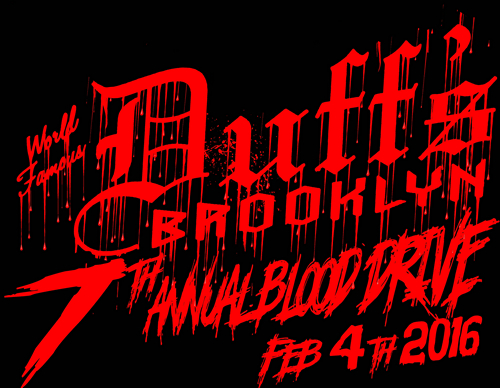 We hope you'll join us at the bar for our 7th annual blood drive, Thursday February 4th. The New York Blood Center "Bloodmobile" arrives around 5 pm and the first donors are taken at approximately 6 pm. Free snacks and refreshments will be made available to all the donors, and Duff's is giving each donor (including those who attempt to donate, and are refused for whatever reason) a free event t shirt (pictured below). You can get more information on giving blood, including other blood drives if you can't make it to ours, here, on the New York Blood Center Facebook page.
"GIVE BLOOD - SAVE LIVES"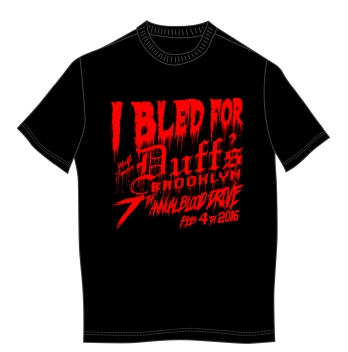 January 27, 2016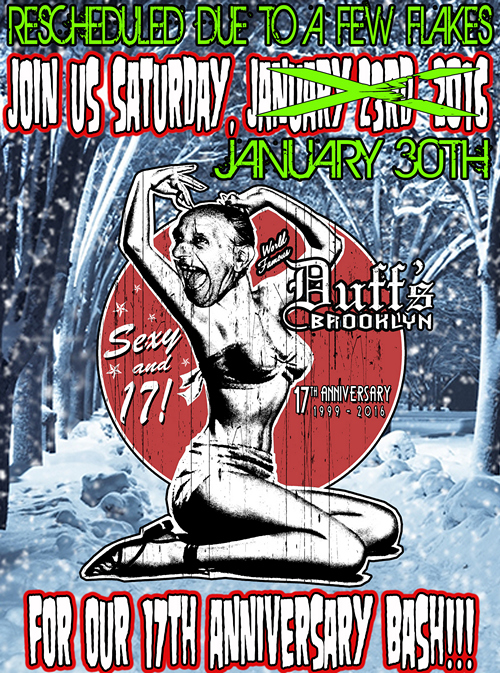 January 23, 2016
17th ANNIVERSARY PARTY POSTPONED TO SATURDAY JANUARY 30th
Due to the virtual shutdown of New York City because of the blizzard, we have no choice but to postpone our anniversary party until next week, Saturday January 30th. THE GOOD NEWS is that we are still OPEN today, our usual hours, 6 pm to 4 am !!!!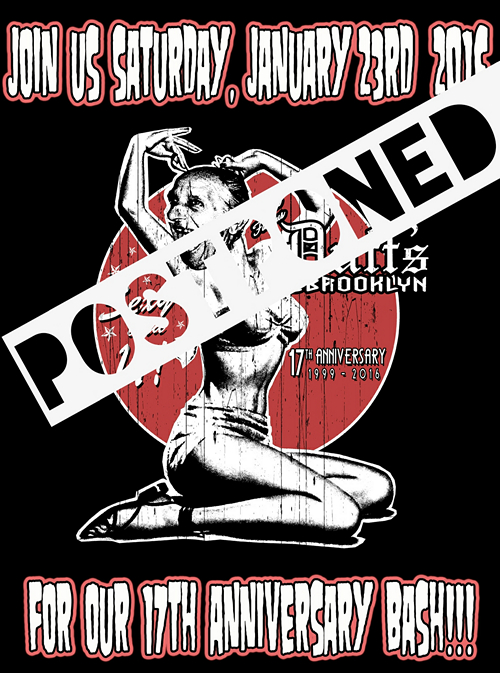 January 17, 2016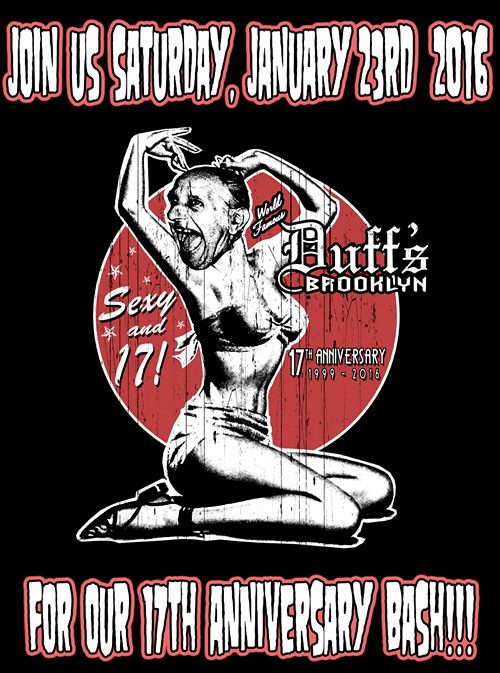 January 4, 2016
DUFF'S get props in Time Out New York
December 28, 2015
Lemmy Kilmister 1945 - 2015 R.I.P.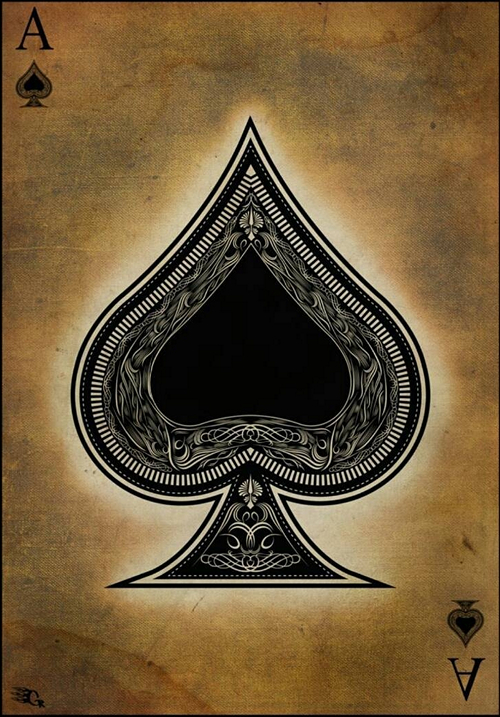 December 28, 2015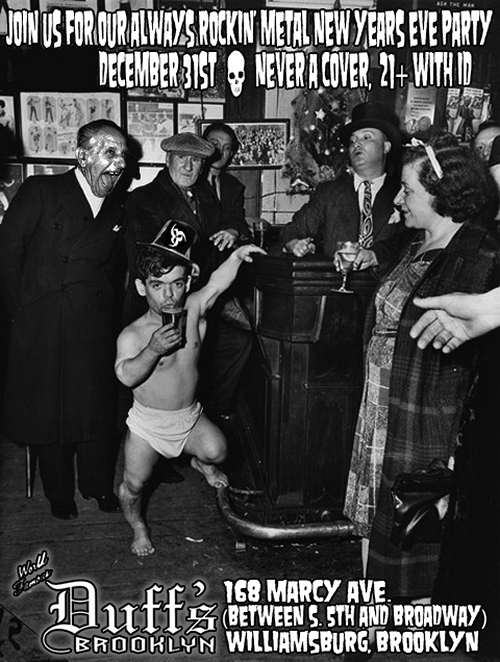 December 24, 2015
We are OPEN Christmas Day, our usual hours, 6 PM to 4 AM.
HAPPY HOLIDAYS everyone - Your friends at DUFF'S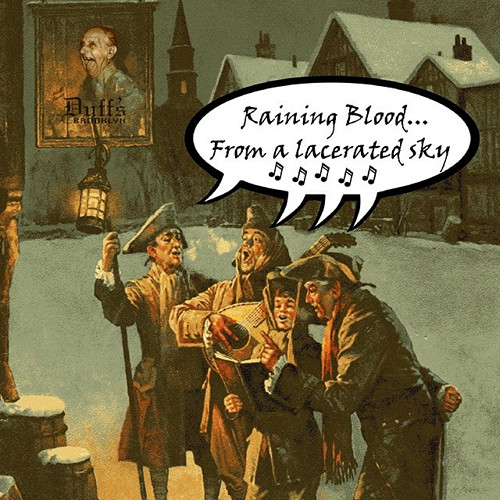 December 23, 2015
2015 Dean Dimebag Guitar Raffle Winner
This year's winner is Claude Carril from Brooklyn. We raised $760 in raffle tickets, all of which will of course go to VH1's Save Music Foundation. Our thanks to everyone who participated this year, and thanks to John & John from Dean Guitars, John C., and of course Dean Guitars. If you wish to contribute to VH1's STMF directly, you can do so here: VH1 Save The Music Foundation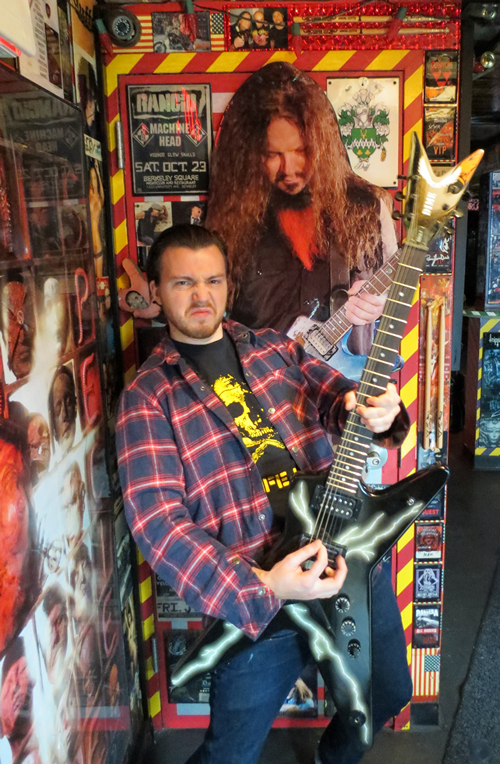 December 15, 2015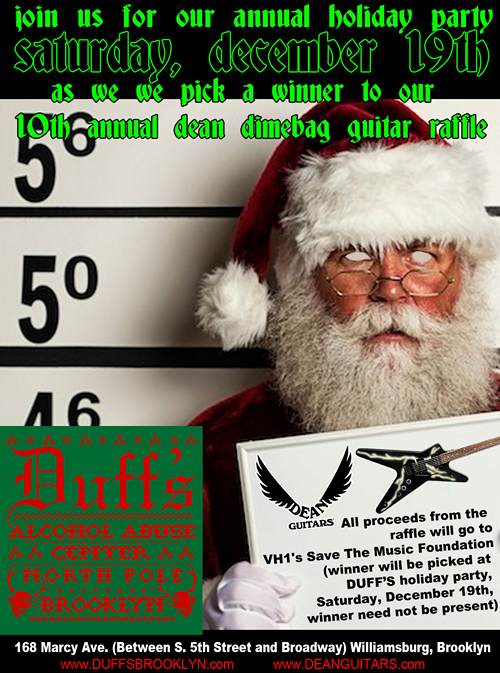 December 2, 2015
11th Annual Dimebag Tribute Night and Dean guitar raffle
We'll be giving away our 11th Dean Dimebag guitar with our annual raffle that starts Saturday, at our Dimebag tribute night. We have raised well over $10,000 since we started, and we hope you'll join in for a good cause. Party starts at 10 PM.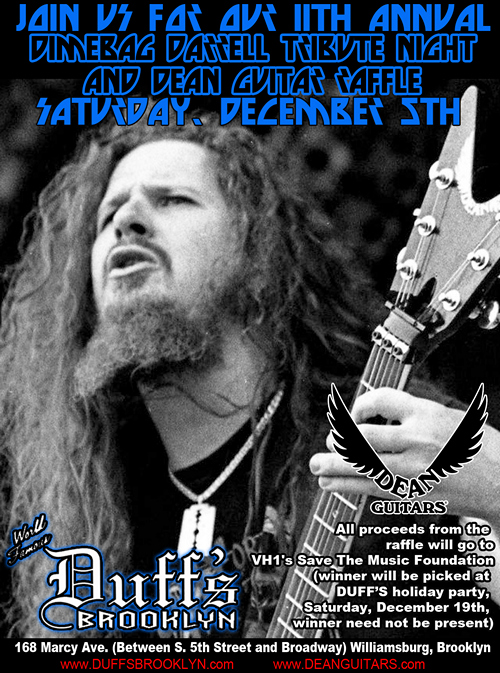 November 23, 2015
Duff's Shout-Out
Our buds MALON reppin' Duff's in their new album art \m/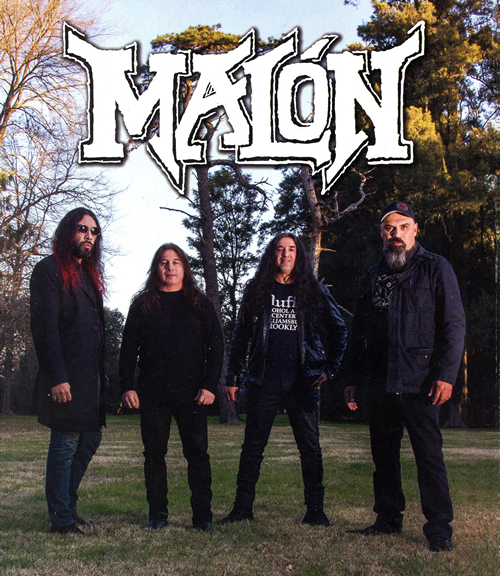 November 12, 2015
JUDAS PRIEST Redeemer Of Souls, Fall Tour, 2015
Photos from Priest's latest swing through the New York City area have been posted HERE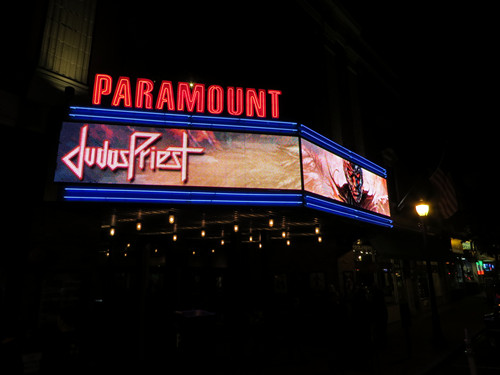 November 9, 2015
Meet and Greet with CAGE, Wednesday, November 11th, 10 PM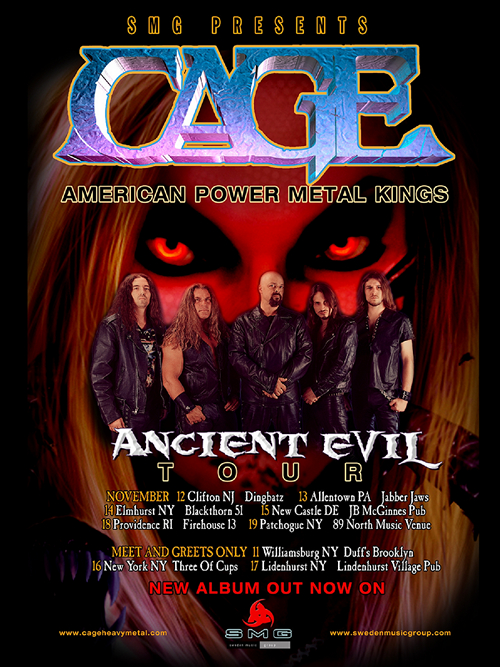 October 27, 2015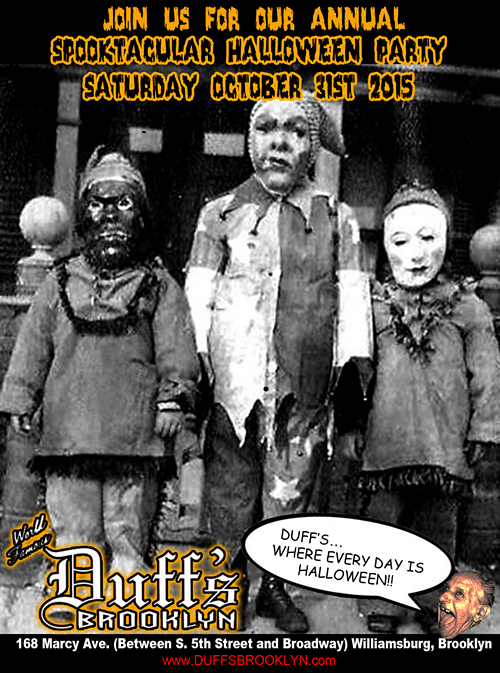 October 24, 2015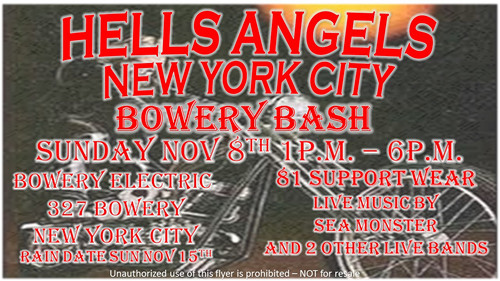 October 20, 2015
We're all very bummed hear of the passing Frank Watkins. We had a lot of good time over the years with Frank and the Obituary guys over the years - R.I.P. Dude.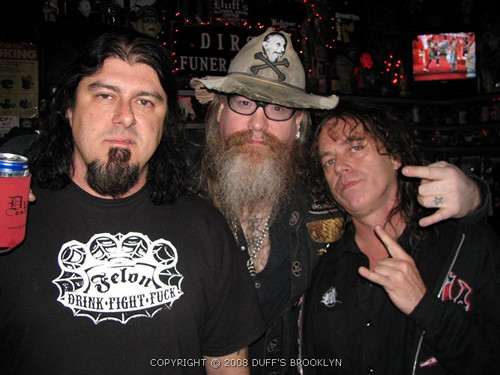 October 14, 2015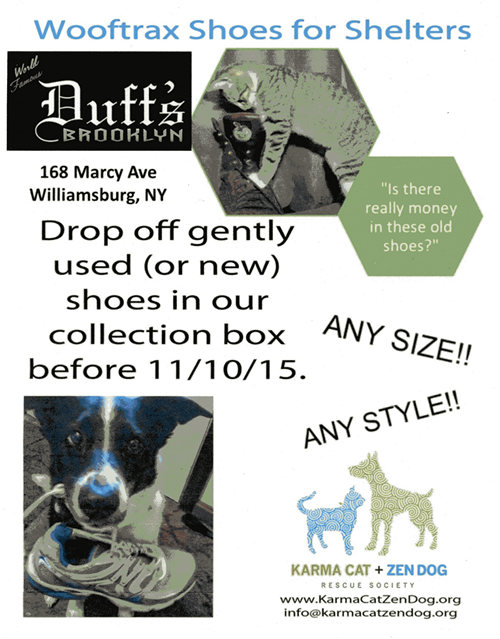 October 5, 2015