THE NEWS
March 30, 2015
Annual Peter Steele Tribute Night, 2015
On Saturday April 11th we will be hosting our annual Peter Steele tribute night. The night has become a yearly event where Peter's fans, friends, and family gather to celebrate all things Peter. Each year we also produce a limited edition shirt, which is sold at the bar and online - 100% of the proceeds from the shirt go to The North Shore Animal League, an animal rescue that Peter was fond of. The shirts can be ordered exclusively online from The Boneyard Rock Shop Webstore. You can also contribute to The North Shore Animal League directly * HERE *. We hope you will help us keep Peter's memory alive by joining us on the 11th, or donating to The NSAL directly in Peter's name.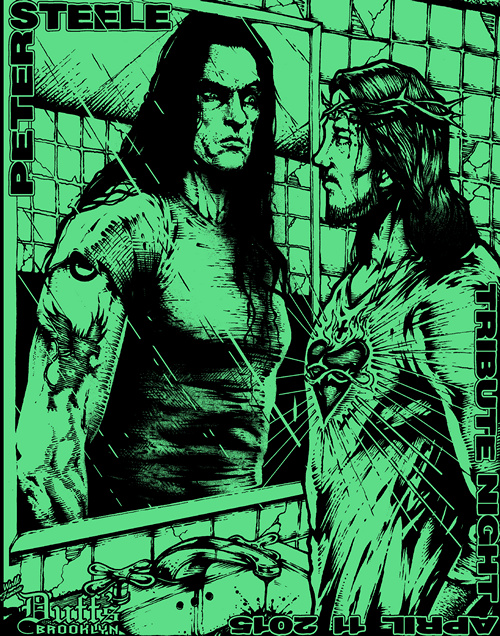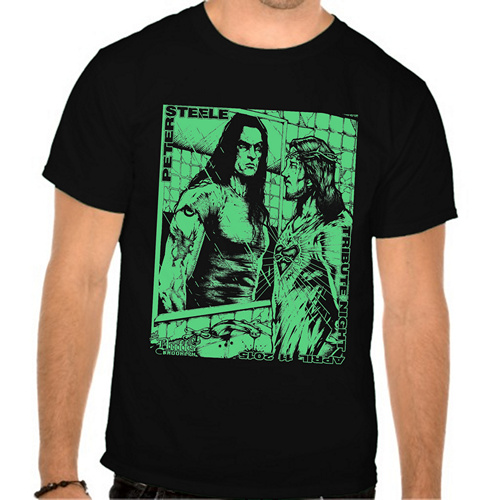 March 9, 2015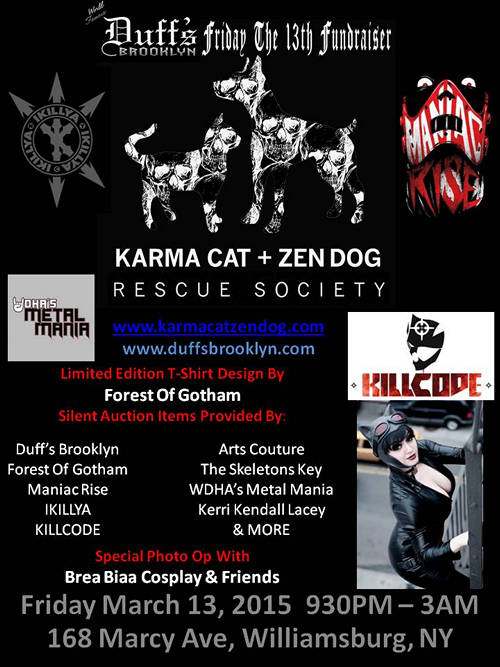 March 2, 2015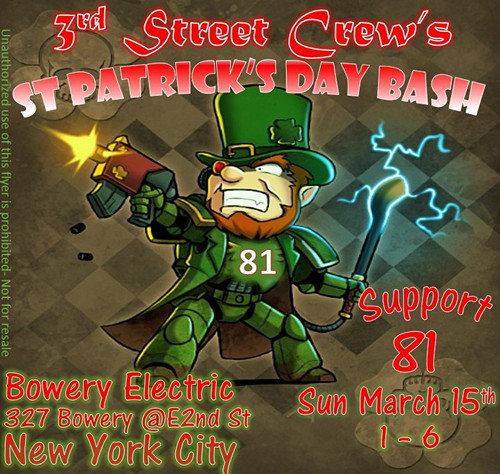 February 19, 2015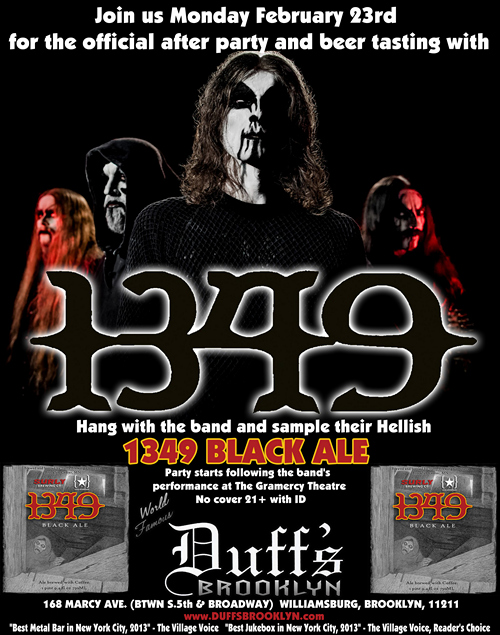 February 18, 2015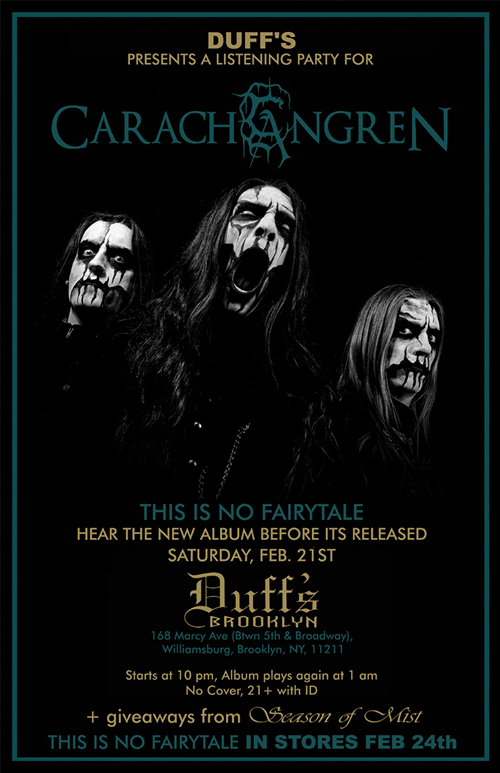 February 1, 2015
Thursday February 6th is our 6th annual BLOOD DRIVE with The New York Blood Center at the bar
Why donate ?? (From NYBC):
From organ transplants to heart surgeries, today's advanced medical care relies on blood transfusions. When one person donates a unit of blood, it can be separated into individual components to save multiple lives. Blood donors like you help meet the daily transfusion needs of cancer and surgery patients, accident and burn victims, newborns and mothers delivering babies, AIDS and sickle cell anemia patients, and many more.
As always, all folks who attempt to give blood will receive a FREE Duff's blood drive event shirt (pictured). The blood drive will be held outside the bar in the bloodmobile, and will run from 6 PM to approximately 10 PM. Find out more at NYBC's web site ~HERE~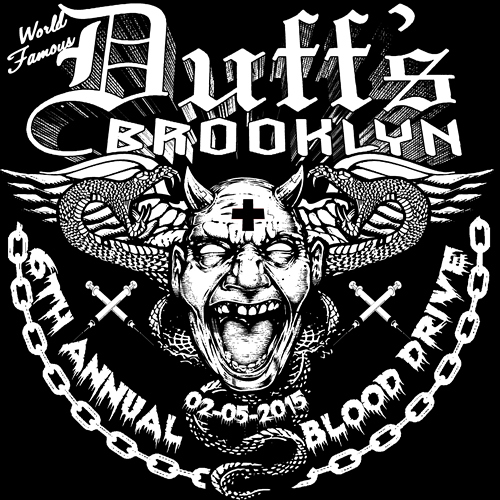 January 21, 2015
Duff's 16th Anniversary Party
Join us this Saturday, January 24th, for the mother of all anniversary parties (at least until next year). 2015 marks our sweet 16th year of rockin' New York City. Thank YOU for supporting Duff's and making this milestone possible. Friends, new and old, we hope you will join us on this special occasion.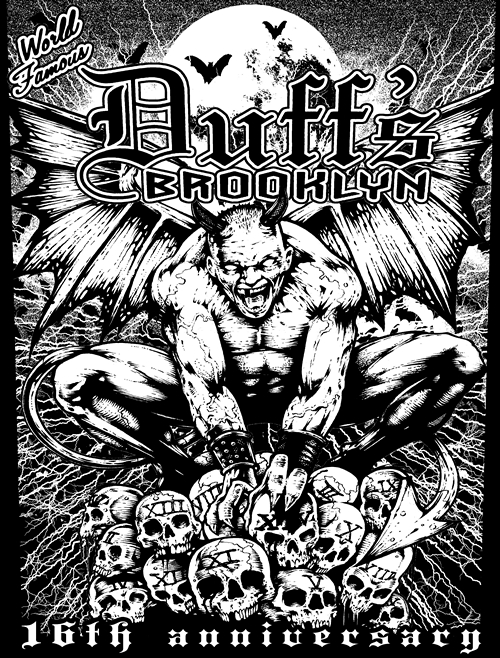 December 30, 2014
10th Annual Dimebag Guitar Raffle Wrap - Up
Another Dimebag guitar raffle is in the books - This year the winner is Brian Hernandez from Queens. We raised $580 for the VH1 Save The Music Foundation, a favorite charity of Dimebag Darrell. Once again, thanks to everyone who participated for a good cause, and if you didn't win, there is always next year !! You can contribute and find out more about the Save The Music Foundation here: VH1 Save The Music Foundation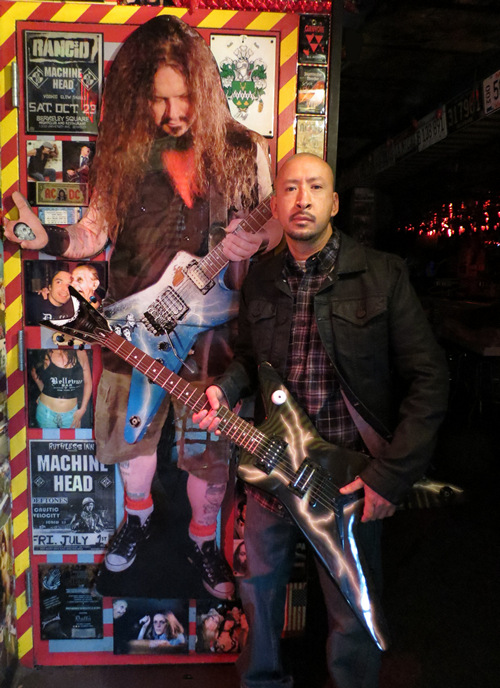 December 24, 2014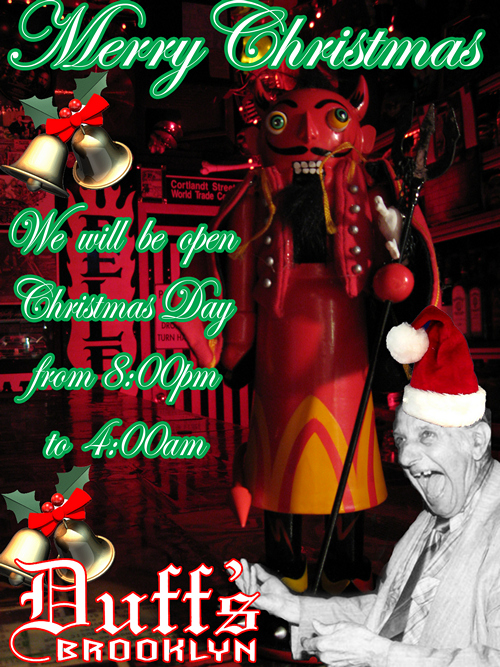 December 17, 2014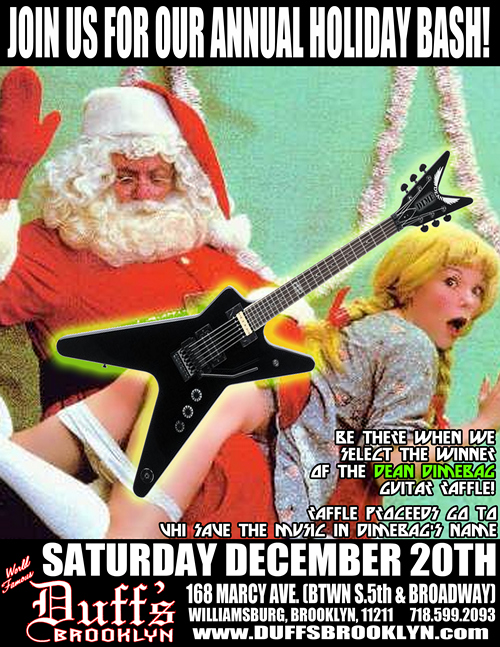 December 16, 2014
Duff picks his top 10 anti-holiday songs for Brooklyn Magazine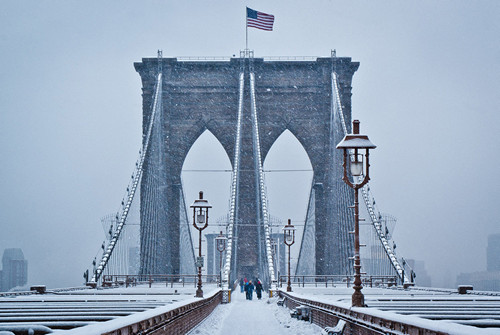 December 13, 2014
SLAYER
Photos from Slayer's 2014 Fall tour have been uploaded HERE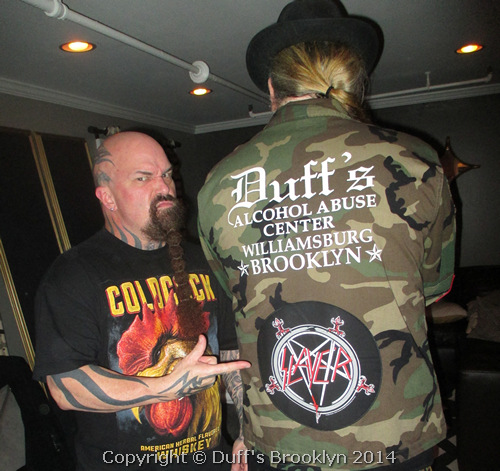 December 2, 2014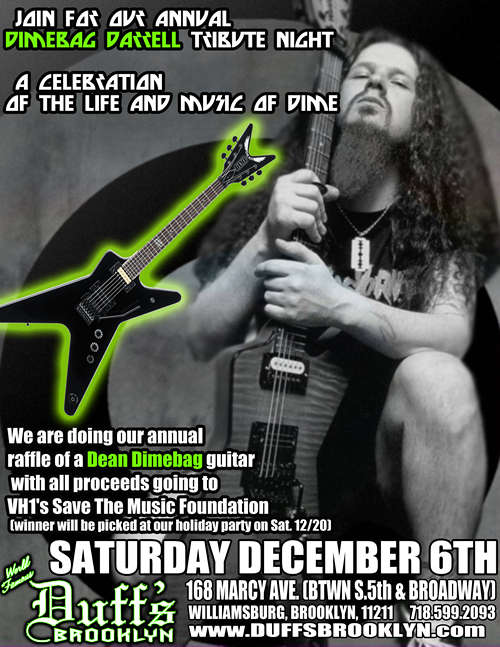 November 2, 2014
PETER STEELE BASS
On Halloween night, naturally, we made a new addition to the bar - A custom made Peter Steele Type O Negative replica bass. The instrument was a gift from our buddy Chuck Thibaut, who drove 10 hours on Halloween Day to make sure it arrived on the 31st, a day that had a lot of significance for Peter. The bass was hand built to the exact specifications of the original instrument, and no detail was spared. Fully functional, it can be taken out and plugged right in. Peter's sister and other family members were on hand as well, helping to make it a very special Halloween.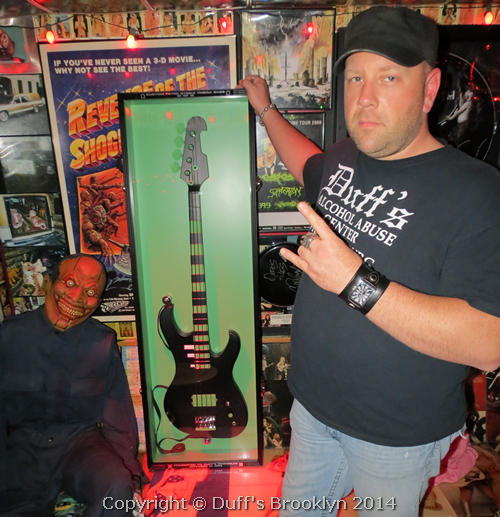 October 26, 2014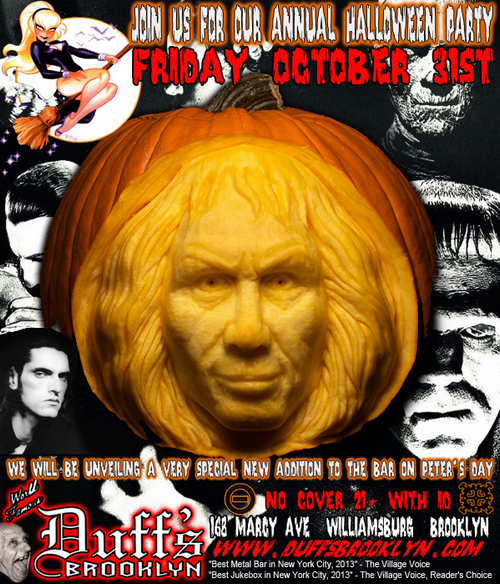 October 19, 2014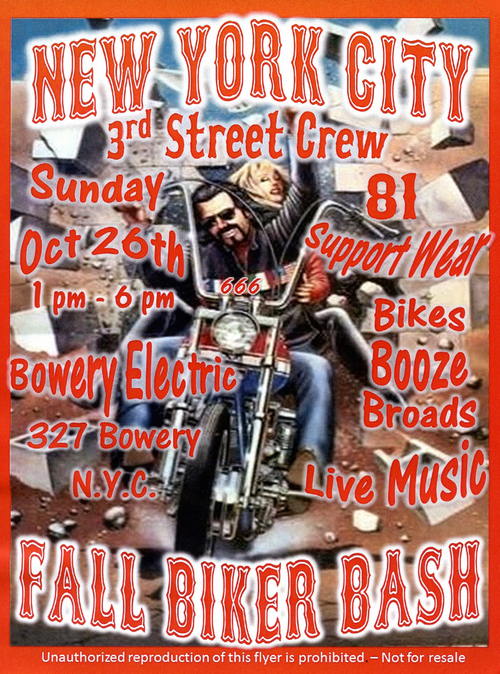 October 12, 2014
NEW PHOTOS: Judas Priest at The Barclay Center in Brooklyn, 10/09/14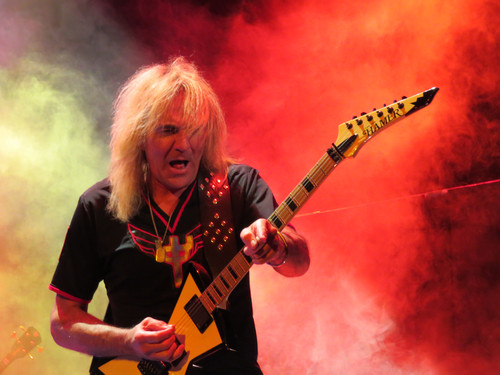 October 9, 2014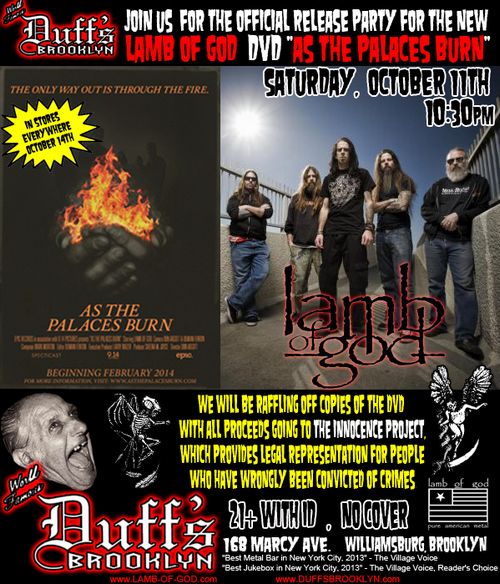 October 3, 2014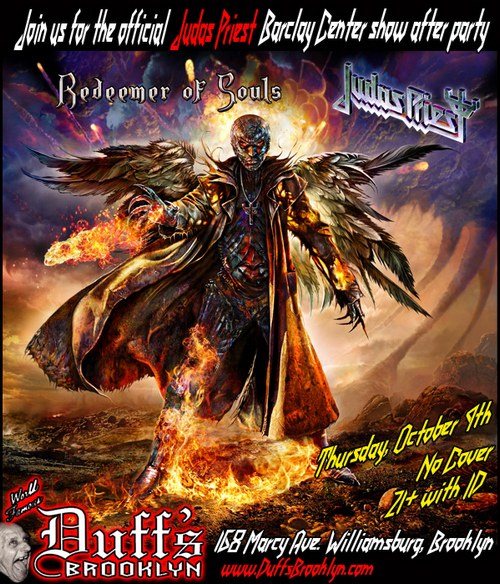 September 15, 2014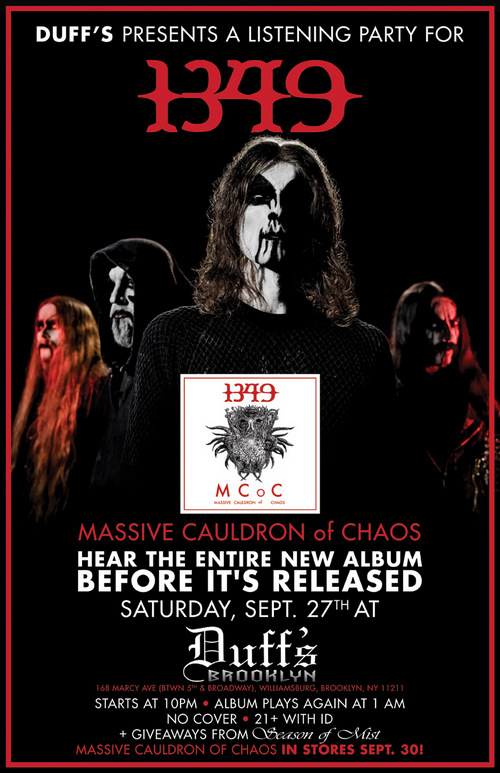 August 31, 2014
Duff's Brooklyn Receives 2014 Best of Brooklyn Award
Brooklyn Award Program Honors the Achievement
BROOKLYN August 28, 2014 -- Duff's Brooklyn has been selected for the 2014 Best of Brooklyn Award in the Dive Bars category by the Brooklyn Award Program.
Each year, the Brooklyn Award Program identifies companies that we believe have achieved exceptional marketing success in their local community and business category. These are local companies that enhance the positive image of small business through service to their customers and our community. These exceptional companies help make the Brooklyn area a great place to live, work and play.
Various sources of information were gathered and analyzed to choose the winners in each category. The 2014 Brooklyn Award Program focuses on quality, not quantity. Winners are determined based on the information gathered both internally by the Brooklyn Award Program and data provided by third parties.
About Brooklyn Award Program
The Brooklyn Award Program is an annual awards program honoring the achievements and accomplishments of local businesses throughout the Brooklyn area. Recognition is given to those companies that have shown the ability to use their best practices and implemented programs to generate competitive advantages and long-term value.
The Brooklyn Award Program was established to recognize the best of local businesses in our community. Our organization works exclusively with local business owners, trade groups, professional associations and other business advertising and marketing groups. Our mission is to recognize the small business community's contributions to the U.S. economy.
SOURCE: Brooklyn Award Program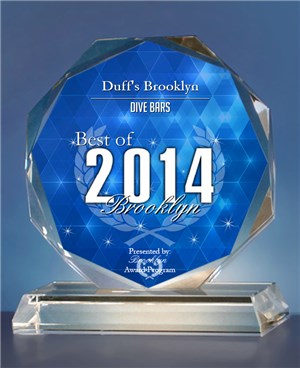 August 18, 2014
New addition to the bar
The very talented Shuhei Tomiyama, dropped off this custom made Type O Negative Russian nesting doll (also know as a Matryoshka doll) at the bar this week. Shuhei is in town once again visiting from Japan, and always stops by with something cool/interesting for us. You can check out Shuhei on twitter: @asagaoshuhel or look him up on facebook. Thanks Buddy !!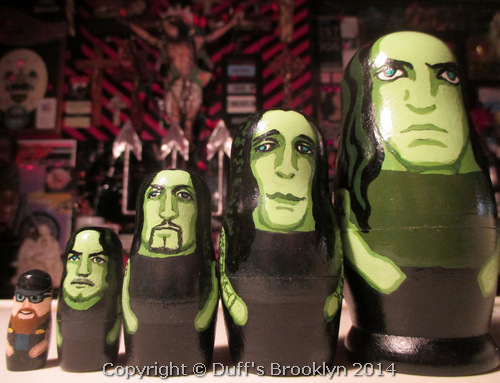 August 15, 2014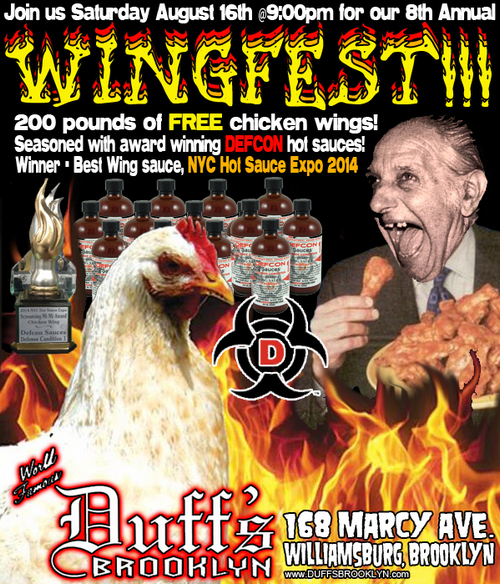 July 31, 2014
New "DUFFMOBILE"
We recently acquired a new hearse for the bar - A 1990 Cadillac Brougham (coach builder: Federal). We are the second owner, as the car had been in funeral service since new at a funeral home in Winston- Salem, North Carolina. The vehicle has 19,000 original miles, and will remain stock - at least for the time being . You can check out photos of the hearse, as well as other "company cars" from over the years in the web site's "Rides" gallery, HERE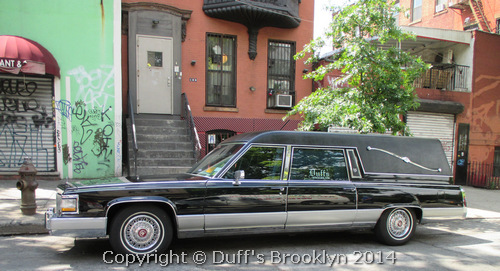 July 14, 2014
NEW SHIRTS IN STOCK
The Boneyard Rock Shop now has in stock the latest Duff's shirt - The front was designed by our good friend Forest, with the classic alcohol abuse logo on the back. FREE shipping on all domestic orders. Check out the Boneyard and the all other cool Rock/Metal merch they carry here: Boneyard Rock Shop (You can find Duff's under the ARTISTS section)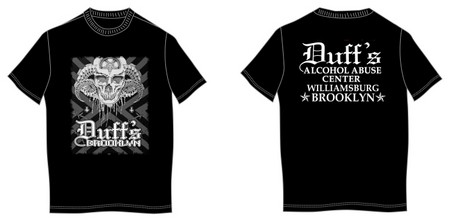 July 12, 2014
Exclusive NYC Judas Priest interview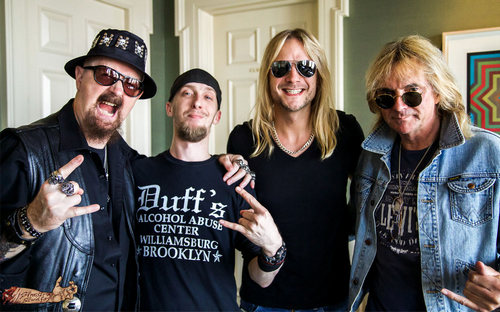 July 1, 2014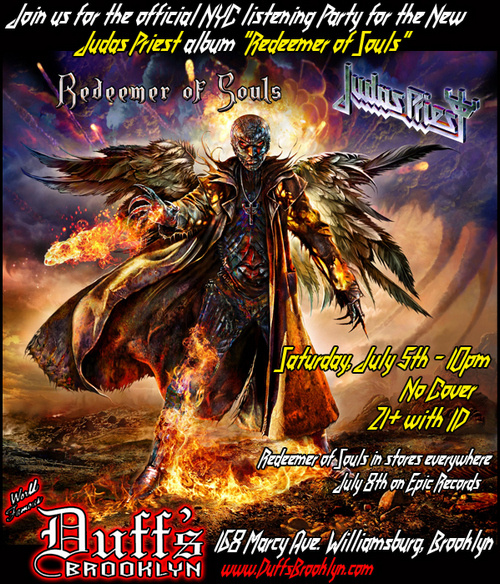 June 29, 2014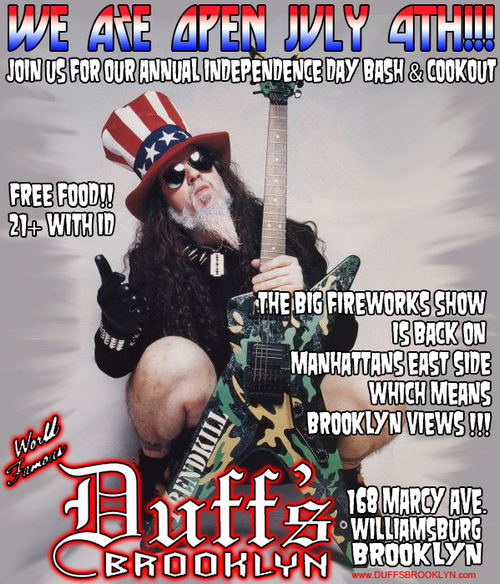 June 9, 2014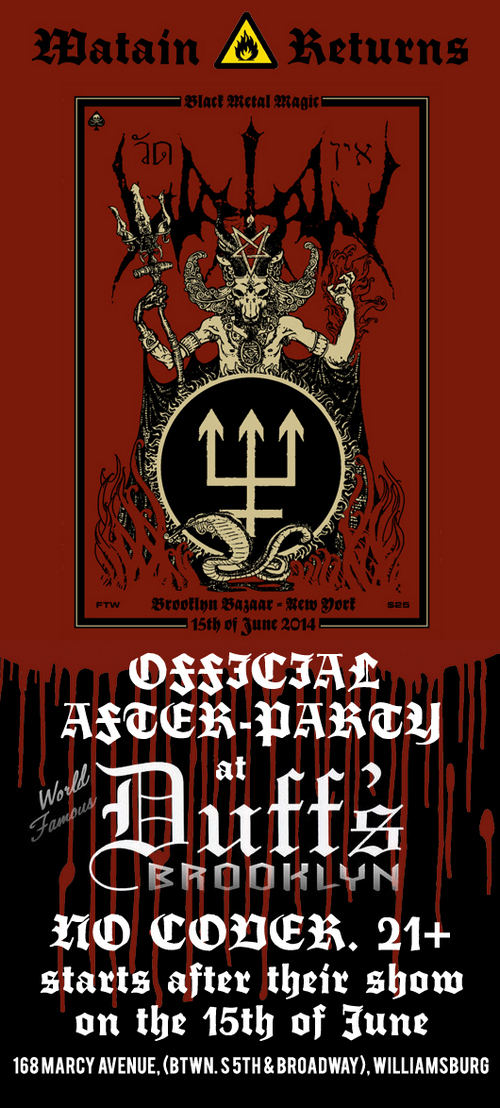 May 14, 2014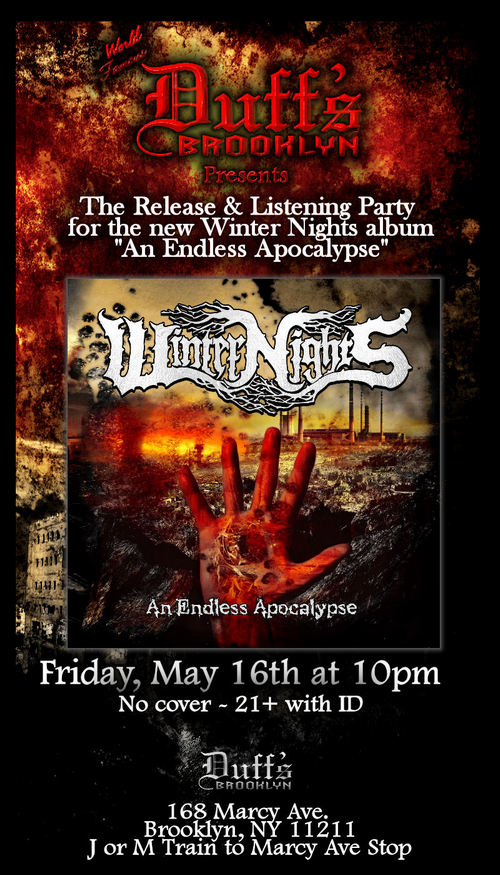 May 4, 2014
15 new photos added to new "Metal Alliance Tour - 2014" Album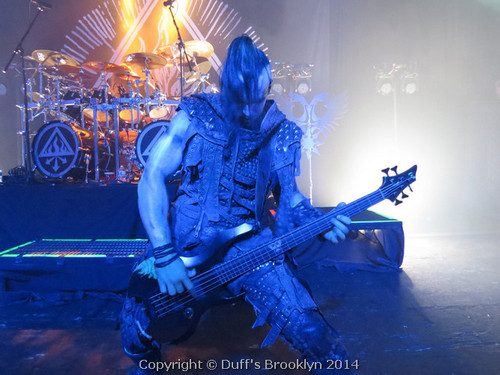 Click HERE
May 3, 2014
Thank You!
On behalf of North Shore Animal League, we would once again like to thank everyone who participated by purchasing a 2014 Peter Steele tribute shirt.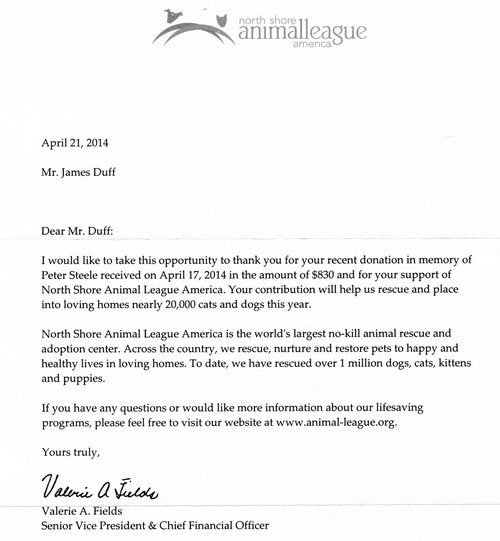 April 27, 2014
IKILLYA LISTENING/RELEASE PARTY, Tuesday, April 29th
Join us Tuesday, April 29th for the listening/release party for "VAE VICTIS", the Megaforce Records debut of New York City's very own IKILLYA.
From our buds at Metalsucks.net:
"Awesome news: one of MetalSucks' favorite unsigned bands is no longer unsigned! Not only have IKILLYA signed with Megaforce Records Incorporated, but they've also completed their new album, Vae Victis (it's Latin for "woe unto the conquered"). The latest offering from New York's own kings of thrashy, groove-laden, no bullshit heavy fuckin' metal will come out April 29, and can now be pre-ordered here. MetalSucks has heard Vae Victis, and we can assure you, it's IKILLYA's finest hour. If you're into bands like Pantera, The Haunted and Lamb of God and you're not listening to IKILLYA, you are missing out big time!"
"To celebrate the announcement, IKILLYA are now giving away their last album, Recon, for FREE right here. Yes, free!!! This is a great chance to get on board with one of metal's best lesser-known gems."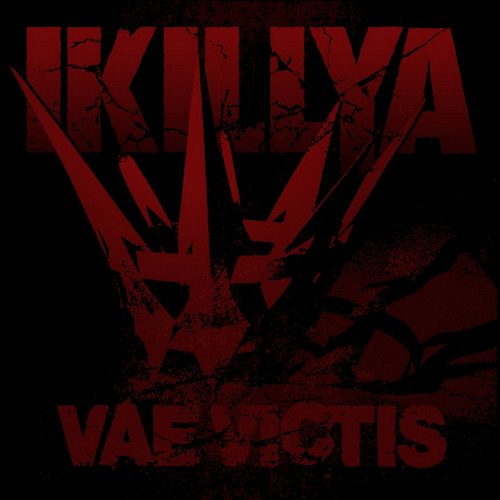 April 9, 2014
Peter Steele Tribute Night
Saturday, April 12th is going to be our annual Peter Steele tribute night at the bar. It's an informal gathering of Peter's fan's, and his band and family members have also dropped in to visit on this night. We'll be playing all of Peter's music and remembering the big guy in a civilized manner (the civilized part would be much to his chagrin I imagine). We'll also be selling a Peter tribute shirt (image below), with his family's permission, with all proceeds to go to The North Shore Animal League.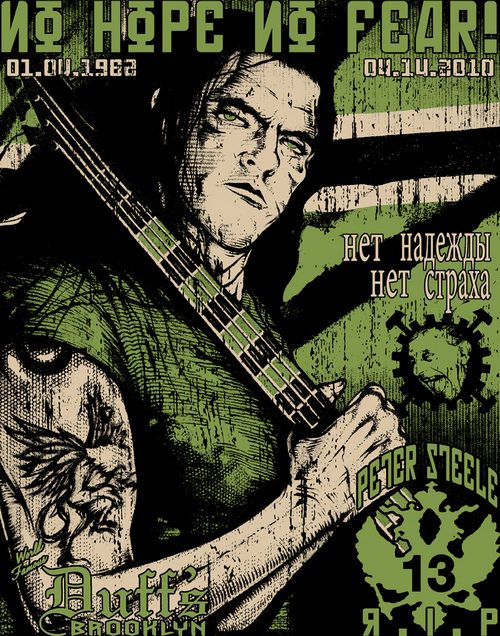 April 7, 2014
TRIPTYKON Listening Party: 4/11/14, 10 PM
Friday April 11th we will be hosting a listening/release party at the bar for the highly anticipated second full length release from TRIPTYKON. Come out and hang with us as we crank up what is very likely to be a strong candidate for album of year. Yes, it is that good. No cover, 21+ with ID, more details below.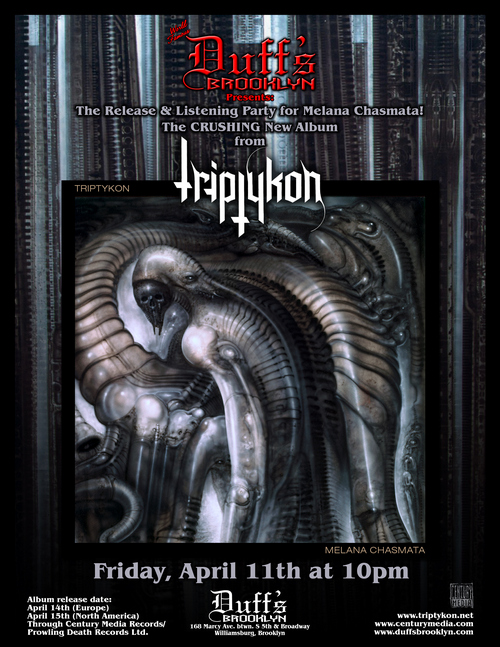 April 1, 2014
BLACK LABEL SOCIETY ALBUM RELEASE PARTY
Join us next Monday for the (rescheduled) Black Label Society release and listening party for their new disc "CATACOMBS OF THE VATICAN". We will have vinyl, DVD/Blu-ray, and signed CD booklets for giveaways. The party starts at 10 PM, no cover, 21 years old and up only, ID required.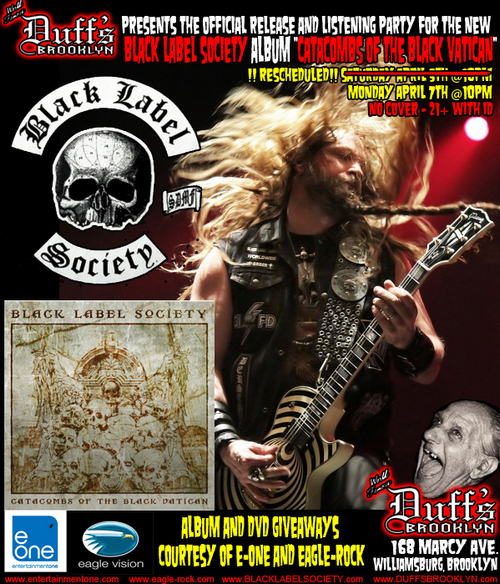 March 25, 2014
Join us this Saturday for East Coast release/listening party for "THIS IS YOUR LIFE" the Ronnie James Dio tribute album. We will have CD giveaways as well as killer custom two sided shirts to give away. 100% of the proceeds from the album go to The Ronnie James Dio Stand Up And Shout Cancer Fund, so get out there and buy a copy or two !!! (Album street date: Tuesday April 1st)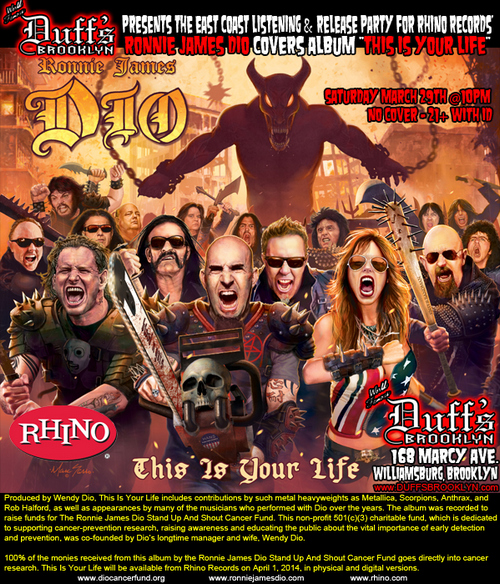 March 17, 2014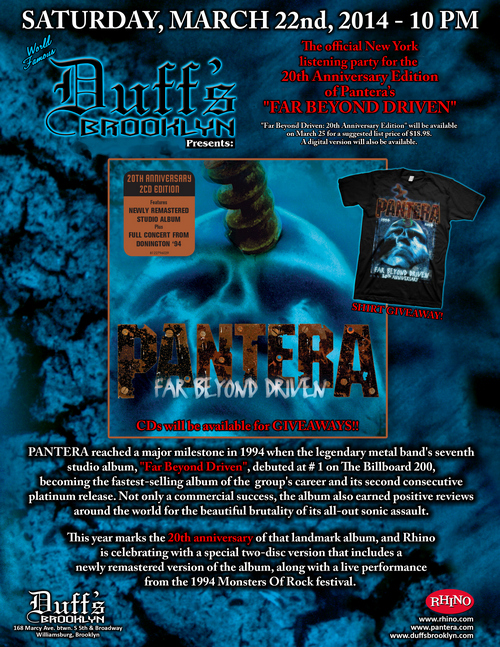 March 3, 2014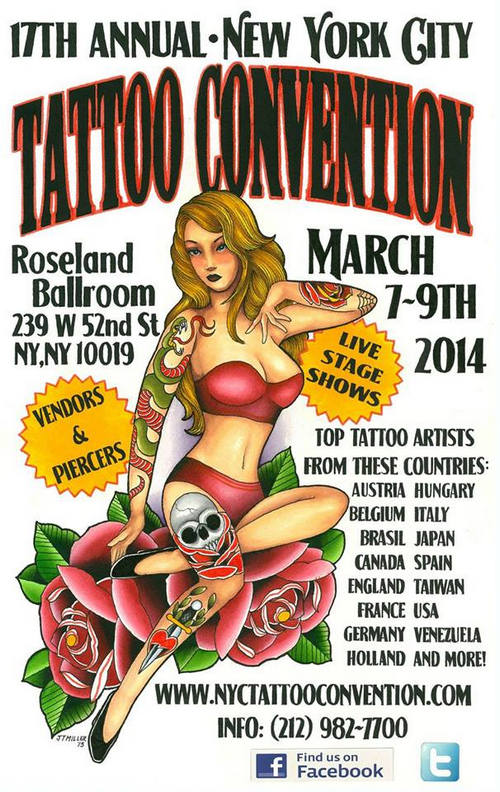 March 2, 2014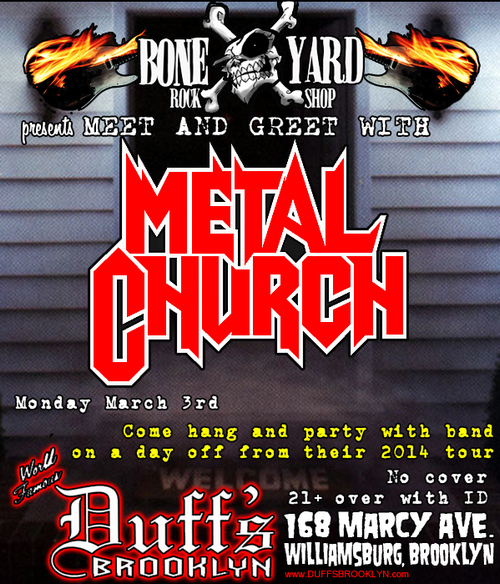 February 4, 2014
A little Blood Drive Q & A
Our buddy Phil, a self professed regular guy in NYC, and a very cool guy in NYC for sure, has posted a blog about annual blood drive:
February 2, 2014
On Thursday, February 6th, we'll be hosting our 5th annual blood drive in conjunction with The New York Blood Center. The blood drive starts at 6:30 PM so please try to get there early (the drive runs until 11 PM), and bring identification with photo or signature. All donors will be served complimentary refreshments and will receive a free Duff's blood drive t shirt (shirt image is below). Find out more about the New York Blood Center, including donor eligibility requirements here:
Welcome to New York Blood Center
Facebook invite page: https://www.facebook.com/events/593039104106363/
"Donating blood is literally giving the gift of life. Each day, patients in our regions need close to 2,000 people a day to roll up their sleeves to give the gift of life. There is simply no substitute for voluntarily donated blood. Without volunteer donors, our community would not have an adequate community blood supply."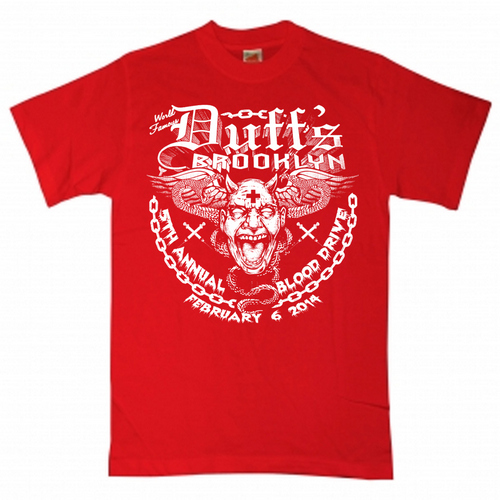 January 15, 2014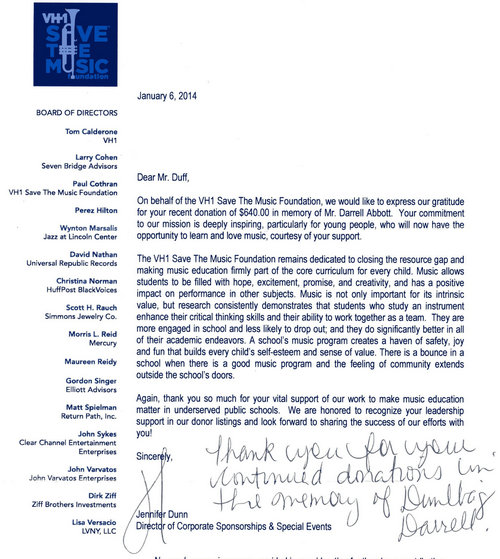 January 13, 2014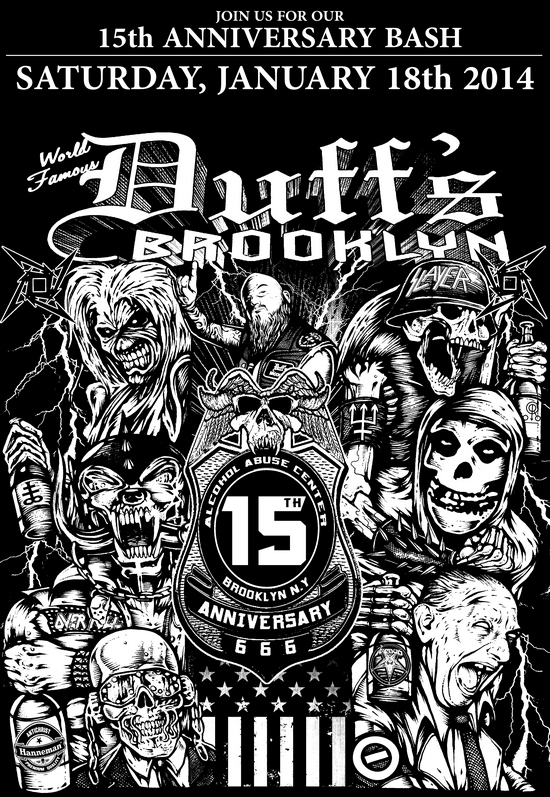 December 26, 2013
Congratulations to Tommy Serocki of Mastic New York - He is the 2013 winner of our 9th annual Dean Dimebag guitar raffle.
The proceeds of the raffle, $640, was sent off Monday morning to The VH1 Save The Music Foundation in memory of Dimebag Darrell Abbott.
Our thanks to Dean Guitars, John C., and of course, everyone who participated this year. You can get more information on the Save The Music Foundation HERE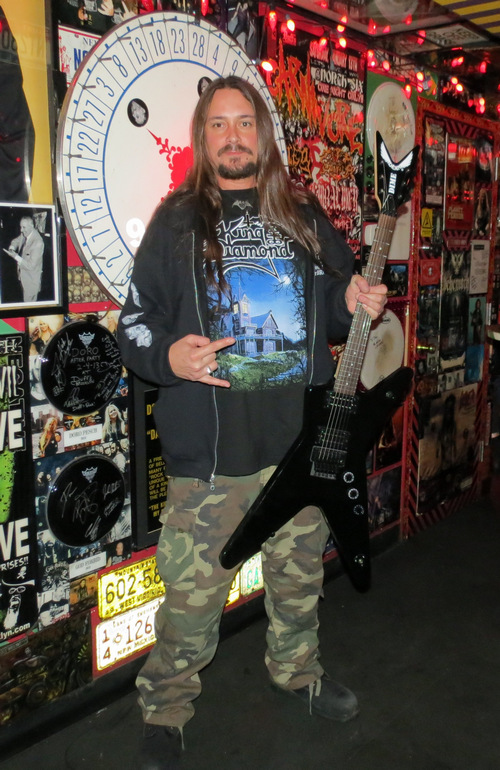 December 24, 2013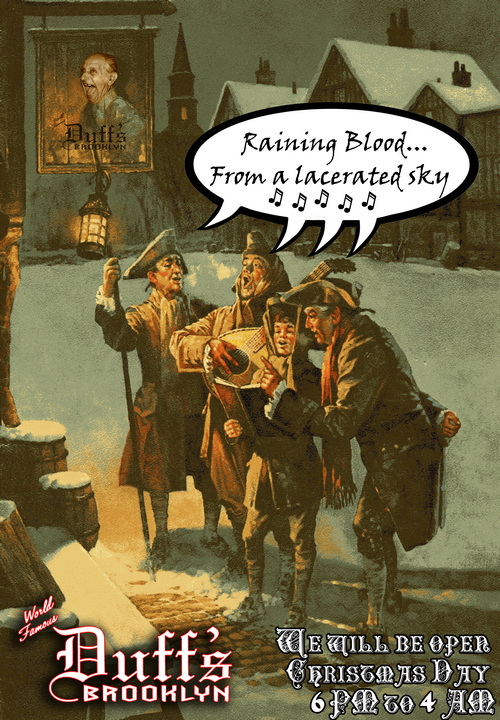 December 18, 2013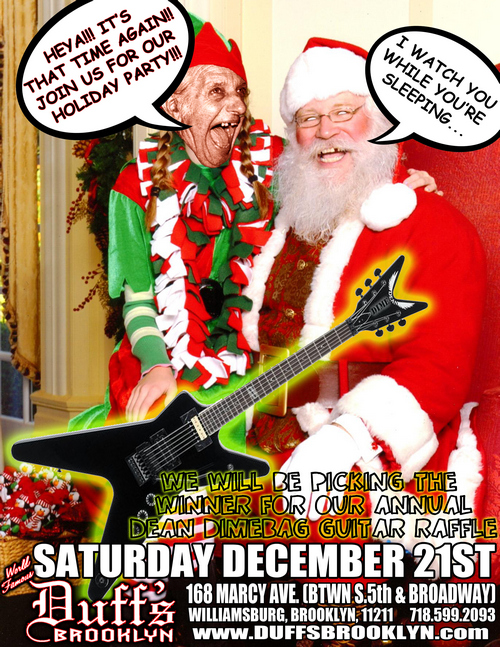 December 12, 2013